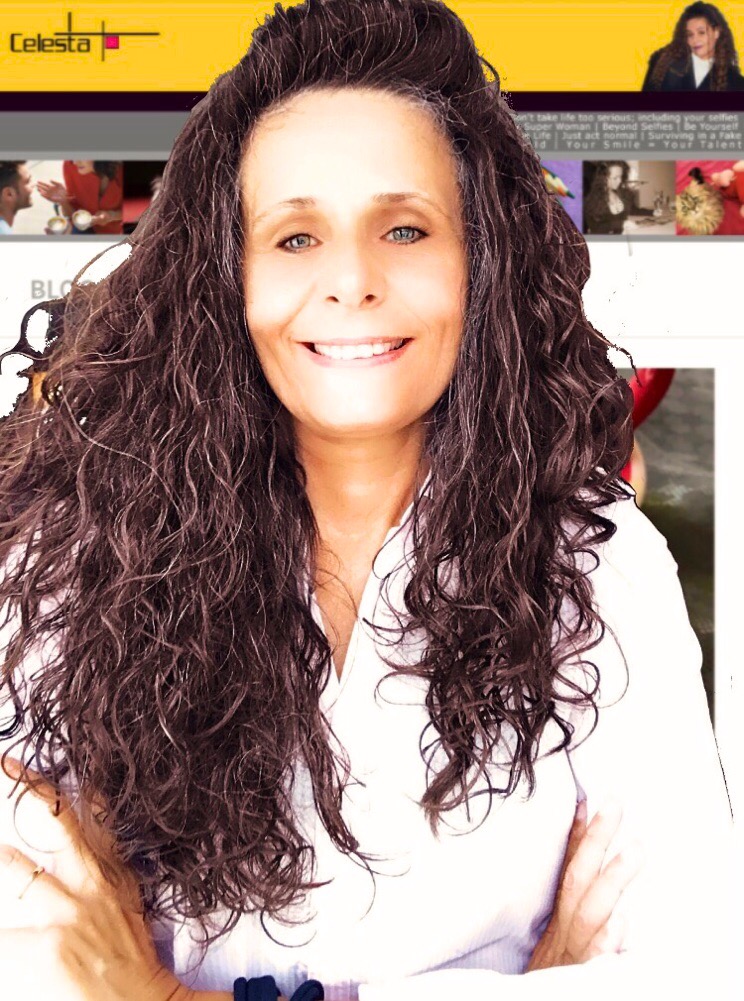 Celesta Entrepreneur since 1989
Here you can Be Yourself; just Dont take life too serious and Find the right Path
How to overcome 100000 daily obstacles, live stress- and debt-free, manage time, energy and health that lead to your right path so you can stop sticking straws in your ears to contact aliens because they know everything, but aren't easy to connect with and you can be stuck with me. I know a lot too, I think.
While I try to be your escape in case of desperation; hopefully you can learn something from how I handle (legal) chaotic life issues instead of pulling someones tongue through their ears and back, knot inclusive. But sometimes I do that also. And other things too.
Just dive in Celesta's insane life and absurd experiences; avoid what she has done in the past and focus on the right choices and decisions so you can shine the rest of your entire life.
Celesta's experiences and multi expertise goes beyond being featured in prominent national newspapers, magazines and did her projects appear on national tv.
Celesta Turbo Quick Timeline: successful, sick, broke, 27 years immune deficiency sucked, then successful again, pandemic, cursing, successful again.
Was owner of a news paper at 12 years old, since 1989 coffee expert/import, since 1999 blogger/writer, mom of ambidextrous photo realistic pencil drawing artists and former child prodigy Rajacenna, kidsTV producer, red carpet photographer, immune deficiency since 1993, published 45 own (successful/wellknown) websites, wrote 4 books, influencer admin of Instagram @drawings (once 331K followers untill Instagram messed things up), EVP paranormal research since 1974, Tarot reader since 2007
Upcoming new book 2020
"I am no guru but I totally should be.
Be sure you can handle total useless rubbish."
So be warned: her visions/approaches/solutions sometimes can differ highly from (often unexperienced) 'coaches' and 'gurus'.
Curriculum Vitae:
– Editorial Secretary Dutch magazine Misset (1988)
– Exclusive Importer for The Netherlands of Manuel Caffee (since 1989) Italian espresso coffee & supplies to horeca, wholesale, retail and private
– CelestaMagazine 2000 – 2001
– Celesta Design 2001 – 2009 https://www.celesta.nl
– Exploitation (45) websites 2002 – now
– Primahoster Webhosting 2003 – now http://www.primahoster.nl
– Cartoonist 2003 – 2004
– Producer KidsTv  2005 – 2008
– 2007paintings  Unique paintings painted by 33 Dutch celebrities for charity 2007 – 2013
– Illustrator / writer of 'Niets is zwart wit..iedereen is anders'  2008
– Edun Live Exclusive import Netherlands Edun LIVE the quality brand t-shirt with a mission, by Ali Hewson and Bono of U2 2008-2010
– Public Relations drawing prodigy Rajacenna  
– Import pumpkinseedoil Http://www.pompoenzaadolie.nl 2012 – now
– Exclusive importer Acme cups 2013 – now
– Tarot reader 2007 – now