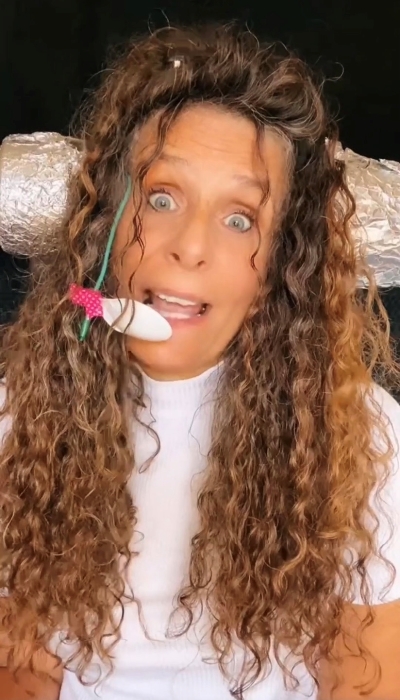 Celesta: Moron since 1966 and Entrepreneur since 1989
I am most likely your escape in case of desperation; hopefully you can learn something from how I handled (legally) more than 100000 daily obstacles, chaotic life issues, stress, people, debt and health instead of pulling someones tongue through their ears and back, knot inclusive. But sometimes I do that also. And other things too.
My Turbo Quick Timeline: successful, sick, broke, 30 years immune deficiency sucked, then successful again, pandemic, cursing, got back up again.
When I was 2 years old and hardly could talk I already harassed my mom with all life questions you could think of, armed with with my dad's awesome taperecorder's microphone.
Don't ask me why I was such an asking machine and even a better insane objective commenter and Oracle of infinite wisdom myself. I always seem to astound my momster with my remarkable life insights, which flushed all present knowledge (dictated by society) down the drain.
Unfortunately for humanity: I didn't change. So in the framework of figuring out why on earth I'm dropped on this planet and all related life questions I started blogging about my insane and mentally retarded life without the help of medicines, drugs or alcohol in 1999.
About becoming entrepreneur in 1989 with an obnoxious school mate who turned into a husband, about trying to remain myself and be myself's best friend while having an unknown disease (for 30y), conquering 9.999.999 daily obstacles, while being succesfull, broke and successful again and mainly how to deal with unconcerned (read: shitty) people along the way.
En route I interviewed many celebrities for our (then) kidsTV program, have been published in well known magazines myself (not nude though) and did my prestigious projects appear on national tv.
Then I suddenly became 'the mom of' because my daughter became worldwide known as a leading Octopus aka Quadridexter ambidexter being able to use multiple limbs and creating 8 realistic drawings and paintings with feet and hands upside down at the same time.
Since 2010 I've been busy writing a moronic book about my oh-so-normal existence. A saga complete with absurd tales of embitterment and lunacy that are sure to leave you sniffing up your TV-set through your nose, no clue why.
I am NOT a Life Coach, but I totally should be.
Curriculum Vitae:
– Editorial Secretary Dutch magazine Misset (1988)
– Exclusive Importer for The Netherlands of Manuel Caffee (since 1989) Italian espresso coffee & supplies to horeca, wholesale, retail and private
– CelestaMagazine 2000 – 2001
– Celesta Design 2001 – 2009 https://www.celesta.nl
– Exploitation (45) websites 2002 – now
– Primahoster Webhosting 2003 – now http://www.primahoster.nl
– Cartoonist 2003 – 2004
– Producer KidsTv  2005 – 2008
– 2007paintings  Unique paintings painted by 33 Dutch celebrities for charity 2007 – 2013
– Illustrator / writer of 'Niets is zwart wit..iedereen is anders'  2008
– Edun Live Exclusive import Netherlands Edun LIVE the quality brand t-shirt with a mission, by Ali Hewson and Bono of U2 2008-2010
– Public Relations drawing prodigy Rajacenna  
– Import pumpkinseedoil Http://www.pompoenzaadolie.nl 2012 – now
– Exclusive importer Acme cups 2013 – now
– Tarot reader 2007 – now