Chinese kunstverkoop daalt 24 procent: VS weer 's werelds grootste kunstmarkt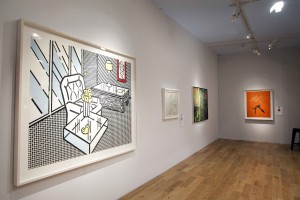 De schijnbaar onstuitbare groei van de Chinese kunst- en antiekmarkt is tot stilstand gekomen. De verkopen daalden in 2012 met bijna een kwart, waardoor de Verenigde Staten weer als vanouds de grootste kunstmarkt ter wereld is. Dit blijkt uit een rapport dat donderdag 14 maart verschijnt. Het TEFAF Art Market Report 2013 – The Global Art Market with a focus on China and Brazil laat ook zien dat de wereldwijde kunst- en antiekmarkt in 2012 met 7% is gekrompen tot €43 miljard. Afnemende groei en aanhoudende onzekerheid in de mondiale economie hebben hier invloed op gehad. Het rapport stelt dat veel kunstkopers hun risico's minimaliseren door zich te richten op de meest bekende kunstenaars in het topsegment van de markt, waarbij vooral naoorlogse en hedendaagse kunst het goed doet.
Het rapport werd samengesteld door Dr. Clare McAndrew. Zij is gespecialiseerd in de economie van de kunstmarkt en oprichtster van Arts Economics. Het rapport wordt elk jaar uitgegeven door The European Fine Art Foundation, organisator van TEFAF Maastricht. De beurs is vanaf aanstaande vrijdag 15 maart tot en met zondag 24 maart geopend voor publiek. TEFAF Maastricht is 's werelds toonaangevende evenement in zijn soort en vermaard om de kwaliteit van het aanbod, expertise en elegantie.
In 2011 werd China voor het eerst de belangrijkste kunst- en antiekmarkt ter wereld. De verkopen in China schoten omhoog tot 30% van het mondiale totaal. In 2012 was er echter sprake van een terugval. In het TEFAF Art Market Report staat: "Voor het eerst in drie jaar vertoonde de Chinese kunstmarkt een daling. De totale verkoopwaarde nam met 24% af tot €10,6 miljard. China kwam daardoor weer op de tweede plaats terecht achter de VS. De kunstmarkt in de VS steeg met 4% tot een wereldmarktaandeel van 33%. De belangrijkste redenen voor het teruglopende marktaandeel van China waren zowel afname van de vraag door een vertraging van de economische groei en aanhoudende beperkte liquiditeit, als een geringer aanbod van kwalitatief hoogwaardige kostbare werken. In de loop van het jaar waren ook minder kunstfondsen en andere speculanten actief in China."
Het rapport presenteert eveneens de eerste diepgaande studie van de kunstmarkt in Brazilië, een van de belangrijkste opkomende economieën in de wereld. De verkopen op de Braziliaanse kunstmarkt bedroegen in 2012 naar schatting €455 miljoen, circa 1% van het mondiale totaal. Het voornaamste belang van Brazilië ligt in de koopkracht van het groeiende aantal vermogende verzamelaars. Belastingbeperkingen en importregelingen blijven echter een groot struikelblok voor de internationale ontwikkeling van de Braziliaanse kunstmarkt.
 De belangrijkste bevindingen van het rapport:
■ Vertraagde economische groei en aanhoudende onzekerheid in de wereldeconomie hadden hun weerslag op de kunstmarkt in 2012. Verkopen liepen wereldwijd met 7% terug van €46,4 miljard naar €43 miljard.
■ Belangrijke reden voor de terugloop vormde de afkoeling van de Chinese markt. De veilingverkopen in China, de grootste drijvende kracht achter de groei, daalden in 2012 met 30%.
■ Tegenover de daling van 24% in China stond een stijging van 5% van de Amerikaanse verkoopcijfers tot €14,2 miljard.
 ■ De wereldwijde herschikking van de kunstmarkt zette zich voort in 2012. De VS heroverde zijn leidende positie met een marktaandeel van 33% (4% hoger dan in 2011), terwijl China terugviel naar 25% (5% lager). Het Verenigd Koninkrijk bleef derde met 23% (1% hoger).
■ Economische en politieke onzekerheid hebben gezorgd voor vluchtigheid in vele beleggingsmarkten, met een voorkeur voor veilige 'blue chip'-aandelen een risicoarme beleggingen. Eenzelfde beeld is te zien op de kunstmarkt, waar bekende kunstenaars in het topsegment van de markt het sterkst presteren.
■ Naoorlogse en hedendaagse kunst vormde het grootste segment in de beeldende kunstmarkt met een waardeaandeel van 43%. Dit segment presteerde sterk en de veilingverkopen 5% stegen tot bijna €4,5 miljard, het hoogste niveau ooit.
■  Moderne kunst (tot 1945) was het op een na grootste segment met een aandeel van 30% in de markt voor beeldende kunst. Na een piek van €3,8 miljard in 2011 zakten de veilingverkopen in dit segment in 2012 met 17% tot €3,2 miljard.
■ Verkopen door galeries en kunsthandelaren daalden 4% tot een geschat totaal van €22,2 miljard. Evenals bij veilinghuizen verschilden de prestaties per marktsegment, waarbij het goedkopere segment het minst goed presteerde.
■  Het transactievolume in de mondiale kunstmarkt daalde in 2012 met bijna 4% tot 35,5 miljoen. Dit is bijna 30% lager dan in 2007, het topjaar voordat de recessie inzette.
 Dr. McAndrew presenteert de bevindingen van haar rapport tijdens het tweede TEFAF-kunstsymposium op vrijdag 15 maart. Dit evenement met de titel Rising stars in the art world. Emerging markets and top performing artists vindt plaats van 10.00 tot 11.45 uur in zaal 2.1 van het MECC. Voor meer informatie en registratie, zie www.tefafartnews.com.
Het rapport is te bestellen voor €20 per exemplaar (exclusief verzendkosten) op de TEFAF-website www.tefaf.com onder Shop.