De eerste slowjuicebar van Nederland
De eerste slowjuicebar van Nederland is vrijdag geopend in Amsterdam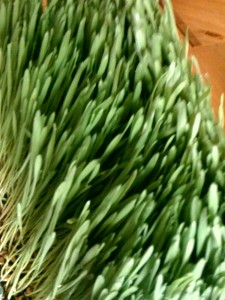 De slowjuice bar in Oud-Zuid biedt biologische sapjes als tarwegras, fruit en groenten, vers geperst uit een zogenaamde slowjuicer. Tevens verkopen ze slowjuicers, 100 soorten bronwaters en vers of bevroren tarwegrassap. Als welkomstdrankje bieden zij hun nieuwste product aan: een klontje bevroren tarwegrassap in een glas bronwater. Een 'green bull' of een 'chiquitita on the rocks'kan natuurlijk ook.
Als je zaterdag 1 december of binnenkort gezellig langsgaat zijn 'the drinks on the house'. Vraag dan ook meteen naar een slowjuice met superlekkere pompoenpitolie. Met deze nieuwste gezonde toevoeging in de juices hebben ze een extra primeur in Nederland. Tarwegraskoning verkoopt ook de flesjes van 250 ml pompoenpitolie van het bekende Oostenrijkse biologische topmerk Austria Pur.
De TarwegrasKoning is te vinden in de Roelof Hartstraat 10 in Amsterdam, Oud-Zuid.