Design schuimkraag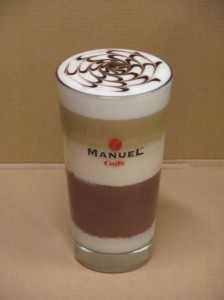 23 jaar geleden was de cappuccino die in de horecagelegenheden geserveerd werd, een vrij saaie bedoening vergeleken met tegenwoordig.
In die tijd hielden ze er nog andere maatstaven er op na wat betreft de hoogte en van het uiterlijk van de schuimkraag, die in het kopje moest zitten. Vaak kregen we, als koffie-importeur, dan ook de vraag hoe je de schuimkraag zo groot, hoog en dik mogelijk kon krijgen. De truc van het schuim begon bij een goeie volle romige melk, ondanks dat ook toen al (bij kenners) bekend was dat de eiwitten voor de schuimvorming zorgen, welke door het schuimpijpje er net onder het oppervlak in te houden, prachtig begon te schuimen. Natuurlijk was het ook van belang hoe je vervolgens de schuimlaag intact op een goede manier in het cappuccinokopje begeleidde.
Daar stond het eindfabricaat van de cappuccino dan, compleet in z'n blootje; volgens de hollanders dan. Vandaar dat men verzon dat er een dun laagje cacaopoeder overheen gestrooid moest worden. Iets wat in het land van de espresso, heel erg uit den boze was. Een echte italiaan zou nooit van z'n leven chocoladepoeder over zijn onder hoge druk gemaakte espresso zwiepen. No! Cacaopoeder hoort niet over een cappu!
Na verloop van tijd ging men, met behulp van kartonnen of papieren sjabloontjes, er kleine cacaofiguurtjes op maken.
Dat is tegenwoordig wel wat anders geworden; de cappu is very stylish geworden inclusief designschuimkraag. Deze designschuimkraag, latte-art of latteart genoemd, brengt een portie behendigheid met zich mee en is niet zomaar door iedereen te realiseren in het moderne kopje koffie. Het is een combinatie van een heerlijk fijnromig gestoomde melk, met kleine luchtbellen, die op een speciale wijze in en door de espresso geschonken wordt. Al naar gelang de gebruikte techniek kun je prachtige vormen creeëren, zoals tulpjes en hartjes. De smaakvolle kleurcombinaties van de witte opgeschuimde melk, vermengd met de diverse bruintinten van de espresso en de cremelaag, en de visueel aantrekkelijke vormen, die daardoor ontstaan wordt het geserveerd krijgen en het opdrinken van de cappuccino een belevenis waar je meer van geniet dan een ouderwetse cappuccio.
De toevoeging op het koffiemenu van de 'Latte's', waarvan hiernaast op de foto een voorbeeld is te zien, brengt een nog grotere diversiteit aan creatieve mogelijkheden met zich mee. Commercieel interessant en daarbij voor de drinker ervan een dagelijkse afwisseling die naar meer smaakt!