Eating towels (is way better than hamburgers)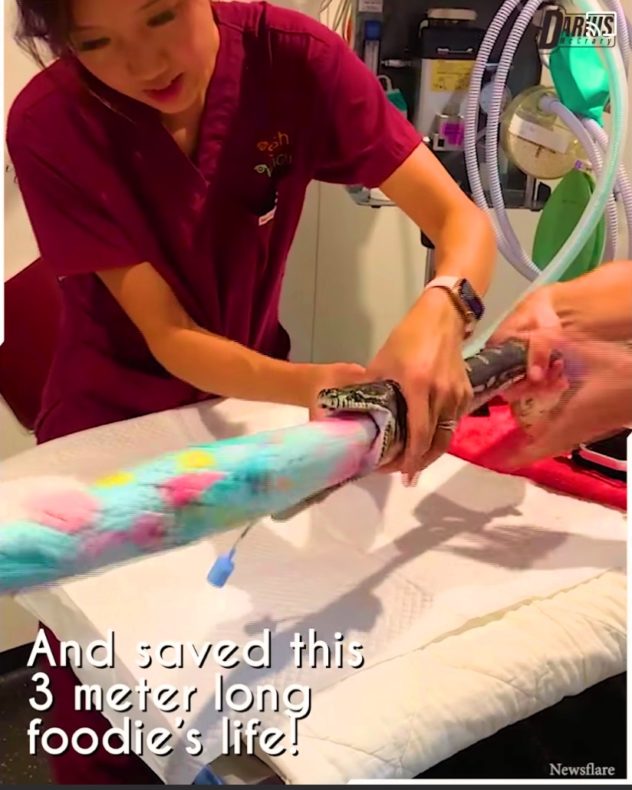 Imagine you are a snake, maybe you even already are one and maybe not. So you are a Python, you know a teenage Python, so you're not too small and not yet an adult creepy serpent so you could eat up a whole human being and if you are seeking some: I have some addresses for you that's even better than McDonald's.

What would you eat if you normally have no freaking idea what it is you're normally stuffing up your mouth after you scared the heck out of people who crossed your path. Which of course is your own path because a path is nature and people are just stealing your pieces of nature here.
I would eat everything I came across like a three-meter-long towel I would find in my owners closet which was next to the beach slippers and the leg shaver thing; but the towel was colorful and looked way better than flip flops and shavers all together.
I would suckle the towel real nicely until it would be stuck in my snake mouth for ever and I never would have to eat again; which on itself wasn't a real clever idea, but hey you have to try everything don't we.
Well here is where my smartness stops because I just choked on a colorful beach towel which was way tougher to chew on than an actual baby or a Chihuahua, but you know they weren't available and then you're literally and figuratively stuck with a towel.
How on earth would I think I could digest such a not juicy piece of cloth; because my owner now had to bring me to the emergency room because some way or the other I couldn't breathe anymore and let some vet people pull the fabric thing out again under narcosis and all. Which was a weird experience on itself because when you are under some kind of hypnotic level, which is stupid because under other circumstance I would be hired to hypnotize people and not the other way around; you are going to see everything around you as if it is painted very badly and you start seeing psychedelic pieces of human floating all around having scissors and scalpels hanging out of their mouth, ears and noses while they were doing the Macarena all together, which was very disturbing. I can tell you: that's not funny and would not recommend that.
But anyways afterwards this whole charade left me totally hungry again and was I already craving some real good three double hamburgers or left over hair protheses human legs. But never in my sneaky, I mean snaky life I intend to nibble on towels again, because those don't fall well in the stomach and even in the throat.
I totally don't know what I was thinking when I saw the towel. I couldn't tell you one interesting detail which attracted me to this dangerous colorful towel except the color. So you see: colorful objects or food doesn't mean a thing and could be threatening just like any other thing you would put in your mouth.
Next time I'd better search better for food and find me a set of cool brains to devour because maybe a bunch of extra brain cells will help choose my food choices better in the future.
Watch the whole video here: https://fb.watch/b94IhQnc_N/
Credits: Darius McCrary https://www.facebook.com/realdariusmccrary
For more rubbish you can take the risk here:
Connect with me:
https://vm.tiktok.com/ZM8oC7uem/
Instagram/Twitter: celesta66
©Celesta.nl – 2022