Espresso-potje al 80 jaar wereldberoemd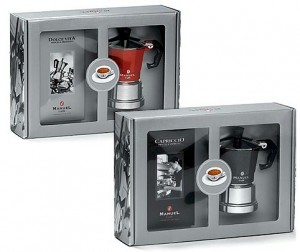 Door een variant op een technisch wasmachineprincipe toe te passen bij het bereiden van koffie, schreef Alfonso Bialetti in 1933 geschiedenis, waar hij tot op de dag van vandaag wereldberoemd door is. Hij maakte van aluminium een koffiezetapparaatje wat al snel in elke keuken in en buiten Italie te vinden was; het welbekende achthoekige 'espresso-potje'. Italiaanser koffiezetten bestaat volgens de Italianen niet. Want de Italiaan, zo zeggen zij zelf, 'ademt' het dagelijks koffiebereiden met dit even doordachte als relatief eenvoudige pruttelpotje. Om de smaak optimaal te krijgen is een speciale maalgraad van de te gebruiken koffie, in combinatie met het toepassen van de juiste bereiding, van het grootste belang.
Bij iedereen buiten Italie zorgt de algemene benaming van het espresso-potje, te weten 'moka-express', voor veel verwarring. Veel mensen denken dat er chocolade in deze koffie is verwerkt, dit is echter niet het geval. Mokka koffie is een benaming van koffie, die vernoemd is naar een stad in Jemen, genaamd Mokka. Deze stad is gelegen aan de Rode Zee, en had tot eind 17e eeuw het alleenrecht om koffie te verhandelen en te verschepen naar alle inkopende landen. Deze koffiesoort had als koffieboonextract een wat cacao-achtige smaak, en werd vooral in het begin van het bestaan van de moka-express-potjes hiervoor gebruikt. De VOC zorgde er toentertijd echter voor dat er (stiekem meegesmokkelde) koffieplantjes in de Nederlandse Indische kolonie werden geplant en verbouwd, waardoor het alleenrecht van de handelsplaats Mokka langzaam afbrokkelde. Tegenwoordig worden vele soorten bonen en melanges gebruikt voor het espresso-potje. Een uitgebreide lijn van wel 7 speciaal voor dit systeem gemelangeerde, gebrande en gemalen koffie wordt geleverd door Manuel caffè; de noord-italiaanse specialist op het gebied van deze weer steeds populairder wordende wijze van koffie bereiden. Door de verscheidenheid aan keuzes kan elke liefhebber zijn ideale smaak vinden, of geheel naar eigen wens daarmee afwisselen.
Als je optimaal wilt genieten van deze koffiezetmethode, kun je het beste de volgende zetregels toepassen. Ten eerste moet je ervoor zorgen dat het waterniveau niet boven het ventiel in het onderste gedeelte, het waterreservoir, van het apparaat komt. Dan dient bij het vullen van het metalen koffiefilter de koffie geheel tot aan de rand gevuld te worden, maar niet worden aangedrukt. Het bovenste draaigedeelte moet goed vast worden gedraaid, zodat er geen water kan ontsnappen tijdens het zetproces. De allerbelangrijkste regel is de volgende: blijf tijdens het bereiden van de koffie met je aandacht erbij. Zodra het apparaatje het 'pruttel' geluid laat horen moet het verwarmingselement worden uitgezet. Je kunt het dekseltje openen om te zien wanneer het gehele proces klaar is, en zodra alle koffie in het reservoir is, haal je direct het apparaatje van het verwarmingselemant af. Als je dit altijd doet blijven koffiesmaak en -geur perfect behouden en blijft het aroma zacht en vol. Laat je het apparaat te lang staan, dan kan de bereide koffie te lang worden verwarmd en een bittere smaak als resultaat hebben. Dit is dus zeer eenvoudig te voorkomen en dit verhoogt het drinkgenot enorm.
Om het apparaatje te reinigen is alleen heet water voldoende. Je kunt hiervoor ook het zetproces met alleen water uitvoeren. Gebruik nooit een afwasmiddel of de afwasmachine, want dit is funest voor het smaakresultaat. Er zijn diverse soorten, zoals de aluminium uitvoering voor gas en elektra, RVS voor de keramische plaat en er bestaan ook espresso-potjes met een snoer. Alledrie de varianten leveren dezelfde kwaliteit, mits je de juiste mix van koffiebonen, branding en maling kiest. Een uitgebreide selectie van de Manuel caffè  voorgemalen melanges is onder andere verkrijgbaar bij Kookpunt.