Houten zonnebrillen veroveren de Nederlandse markt
Na het succes van vorig jaar komt trendsetter Hout Couture met nieuwe modellen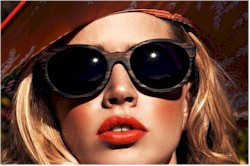 Trendy én verantwoord, dat zijn de zonnebrillen waarmee Hout Couture halverwege de zomer van 2012 voor het eerst het Nederlandse straatbeeld verraste. Het houten frame werd snel populair en Daphne Deckers droeg een exemplaar in RTL Boulevard. Het televisiedebuut van het Wayfarer-model maakte de weg vrij voor de Zuid-Afrikaanse eco-fabrikant. Naast de Wayfarer komt het merk dit jaar met twee nieuwe modellen; de Ramsey (Aviator shape) en de Cat-eye (feminine classic style). Ook worden vier nieuwe houtsoorten geïntroduceerd; American Walnut, Ebony Macassar, Stained White Oak en Zebra Wood.
Voor elke bril een boom
Het concept van Hout Couture is volledig duurzaam te noemen en de brillen worden gemaakt van FSC gecertificeerd hout. Het productieproces vindt plaats onder streng toezicht en de opbrengst van de brillen komt deels ten goede aan het WESSA Eco-schools programma in Zuid-Afrika. In meer dan vijftig landen wordt, dankzij dit programma, op scholen uitgelegd hoe belangrijk en bereikbaar duurzaam leven is. Een voorbeeld: dankzij Hout Couture planten Afrikaanse scholieren bomen rond het schoolplein en leren ze verantwoord met de natuur om te gaan. Voor iedere bril wordt een boom geplant en inmiddels hebben duizenden kinderen leren om te gaan met de natuur door het planten van duizenden bomen!
Hout Couture verovert de wereld
Toen de Amsterdammer Rene Corbijn een jaar geleden op reis was door Zuid-Afrika kwam hij de bijzondere houten zonnebril overal tegen. De goede kwaliteit en het lichte montuur spraken hem meteen aan en hij besloot de fabrikant op te zoeken. Het Zuid-Afrikaanse modefenomeen kwam hiermee in haar gedroomde stroomversnelling terecht. Na Corbijn en de Europese markt ontdekten ook andere landen het merk en inmiddels loopt heel de wereld warm voor de bijzondere zonnebrillen die in Nederland verkrijgbaar zijn in drie verschillende modellen en vier verschillende houtsoorten.
Factsheet
–         Hout Couture ondersteunt WNF & WESSA (Wildlife and Environmental Society of South Africa, http://wessa.org.za/what-we-do/eco-schools.htm).
–         Naast bekende Nederlanders als Daphne Deckers, Yfke Sturm, Barry Atsma en Lodewijk Hoekstra (Eigen Huis & Tuin) heeft ook Tyra Banks (o.a. Victoria Secret Angel & bedenker van America's Next Top Model) een bril.
–         De bril wordt met de hand gemaakt kent een productietijd van twee dagen.
–         De brillen worden gemaakt van FSC gecertificeerd hout.
–         De bomen die geplant worden zijn inheemse bomen zoals de Marula boom en de Paper Bark boom (soort Acacia).
–         De brillen zijn verkrijgbaar via de website en via verschillende verkooppunten in  diverse steden in Nederland, België en op Ibiza (www.nl.houtcouture.com/stores)