Hyperdepiep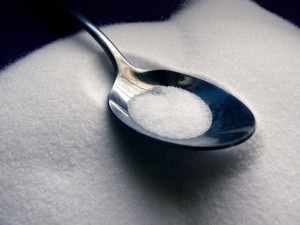 Hyperdepiep, dat is wat ik altijd werd als ik op één of andere manier suiker tot mij nam. Ik werd daar zo hyper van dat ik met gemak honderdzestig rondjes rond de kerk kon rennen en weer terug.
Pas op latere leeftijd merkte ik dat ik ongelofelijk hyperactief en onrustig van suiker werd, het ging me steeds meer opvallen dat ik me anders gedroeg onder invloed van suiker. In één keer kon ik een boel handelingen tegelijk doen en bij voorkeur zo snel mogelijk. Nu snoepte ik als kind bijna nooit, maar nam wel bijvoorbeeld tonnen gekleurde hagelslag op m'n brood. Overigens voelde het niet prettig, mijn hoofd tolde en ik had 1001 gedachten tegelijkertijd. Daarbij was de onrust in mijn lichaam zeer storend te noemen.
Gelukkig was ik zelf deskundig genoeg om, hetzij na jaaaaren, er achter te komen dat ik zonder suiker niet meer hyperdepiep werd.
Pas als je zelf de moeite een keer neemt om een paar maanden geen suiker tot je te nemen; durf ik te stellen dat je, zonder uitzondering, zult zien dat je minder last hebt van bijvoorbeeld hyperactiviteit, vermoeidheid, irritatie of agressief gedrag.
Niet alleen hyperactiviteit is tegenwoordig een probleem, maar agressie is ook nog een bijkomstigheid van suiker.
In 1988 was er een Amerikaanse criminoloog die ontdekte dat er tussen criminaliteit en voeding een samenhang te vinden was. Een test in een instelling wees uit dat bij een suikerloze voeding de proefpersonen binnen twee weken beduidend minder agressief gedrag vertoonden.
Wat gebeurt er nu werkelijk als je (te)veel suiker binnenkrijgt?
Als je teveel suiker tot je neemt, kom je in een soort overspannen toestand en word je overactief.  Je krijgt een enorme boost aan insuline wat je het idee geeft en ook laat reageren alsof je heel veel energie hebt. Doordat het gearaffineerde suiker is, en derhalve (veel te) snel kan worden opgenomen door het lichaam, is het in verhouding teveel insuline wat vrijkomt in je bloedbaan en daardoor op lange termijn schadelijk. Dit komt doordat het systeem geen mogelijkheid krijgt om in balans te komen.
Het zorgt ervoor dat je immuunsysteem aangetast wordt, waardoor je lichaam zich slechter kan weren tegen ziektes.
Afgezien van het feit dat de snelle suikers door insuline omgezet worden in vet en je daardoor dus dikker wordt, veroorzaakt het nog veel meer lichamelijke klachten dan alleen maar het dikmaak probleem waar mensen zich veel meer mee bezig houden. Geraffineerde suiker bevat geen vitamines en mineralen, dus om verteerd te kunnen worden, moeten voor dit proces uit de lichaamsreserves vitamines en mineralen gehaald worden. Vandaar dat suiker dus in grote mate verantwoordelijk is voor een vitamine C afbraak.
Zo op het eerste gezicht zou je denken dat suiker alleen maar slecht is voor je gebit en voor je gewicht. Hier komt een schokkende opsomming over wat geraffineerde suiker nog meer aan gezondheidsproblemen kan veroorzaken:
– onderdrukking immuunsysteem
– verstoring lichamelijke balans mineralen
– hyperactiviteit
– angsten, depressies, concentratieproblemen
– chagrijnigheid, slaperigheid, sufheid bij kinderen
– adrenalineverhogend bij kinderen
– hypoglykemie
– verzwakt verdedigingsmechanisme tegen bacteriële infecties
– schade aan de nieren
– koper- en chroomtekort
– cholesterolverhogend
– gewichtstoename
– diabetes
– voedsallergiën
– vergiftiging tijdens zwangerschap
– verstoort de opname calcium en magnesium
– versnelt het verouderingsproces: rimpels, grijs haar
– botontkalking
– exceem bij kinderen
– vergroting en vervorming nieren
– vergroot risico op hart-en vaatziekte
– bevordert tand- en kiesbederf
– zure maag
– obesitas
– verhoogt het risico op de ziekte van Crohn
– kan leiden tot vorming van vrije radicalen in het bloed
– kan de alvleesklier overbelasten
– kan afbreuk doen aan de binnenkant van de haarvaten.
– kan levercellen delen, waardoor de grootte van de lever vervormt
– lichaam houdt vocht teveel vast
– kan leiden tot hormonale disbalans
– kan hoofdpijn veroorzaken, waaronder migraine
– risico op bloedstolsels en beroertes
– kan de insulineaanmaak verhogen
– verhoogt de bacteriële fermentatie in de dikke darm
Bij dit laatste punt: de bacteriële fermentatie in de dikke darm, onstaat er gisting in de darmen. Hierdoor gaat je lichaam steeds meer behoefte aan suiker krijgen en word je dus eigenlijk langzaam verslaafd aan suiker.
Door suikertoevoegingen in producten in grote hoeveelheden toe te passen, maak je mensen verslaafd; het lichaam krijgt steeds meer behoefte aan suiker. In kleine hoeveelheden is het een minder probleem, maar op deze manier sloopt het je darmflora wel. Hierdoor kun je
chronische aandoeningen aan het darmslijmvlies oplopen en dus daardoor een verzwakking van het immuunsysteem krijgen.
Oorspronkelijk was suiker bedoeld als houdbaarheidsmiddel voor voedsel. Natuurlijk is suiker ook een lekker goedje en raak je er makkelijk verslaafd aan. Daar heeft de kapitalen verdienende suikerindustrie ook hard z'n best voor gedaan; in een relatief korte periode van circa vijftig jaar tijd heeft zij verschrikkelijk veel producten verzonnen en gemaakt. Al deze producten zitten tjokvol met het supergif 'suiker' en via reclames verspreidt het zich als een epidemie de wereld rond.
De makers van deze producten lachen heimelijk in hun vuistje, hoogstwaarschijnlijk zittend aan een paradijselijk wit strand ergens in de stille Zuidzee.
De machtige suikerindustrie heeft de mens suikerverslaafd gemaakt.
Biologische honing vs suikerhoning
Een eventueel goed alternatief voor de geraffineerde suiker, is het gebruik van bijvoorbeeld een biologische bloemenhoning. Het verschil tussen een normale (niet bio) honing, zit hem in het feit dat de gemiddelde gewone honing tot stand komt doordat de bijen bijgevoerd worden met geraffineerde witte suiker. Dit komt dus voor een groot percentage ook weer terug in het eindproduct. Daardoor krijg je dus een honing met geraffineerde suiker. In veel buitenlandse honing wordt ook vaak suikerwater toegevoegd. De biologische honing bevat alleen natuurlijke, door de bij met behulp van de verzamelde nectar van de bloemen en bloesems geproduceerde honingsuikers. Deze zijn langzaam en gedoseerd te verteren door ons lichaam met als voordeel dat de insulinespiegel slechts beperkt wordt geactiveerd. Bij de 'gewone' honing wordt direct en met alle negatieve gevolgen van dien, de insuline geactiveerd.
Dus alhoewel biologische honing beter is dan gewone honing is het toch beter om ook hier niet téveel van te consumeren.
wordt vervolgd