Makkelijk Italiaanse marinara saus recept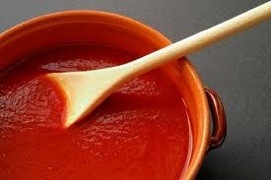 Hier is een geweldig recept voor marinara saus met behulp van ingeblikte tomaten. Deze marinara saus is heerlijk over uw favoriete pasta, boven op de pizza en mosselen of garnalen. De schoonheid van deze saus is dat het kan worden gebruikt met een aantal andere recepten, dus het is een geweldig startpunt in de Italiaanse keuken en het is zeer eenvoudig te maken.
U kunt ofwel vers of ingeblikte tomaten gebruiken voor dit recept, maar als je verse tomaten gebruikt, vereist dit meer tijd en voorbereiding. Makkelijker is dan om ingeblikte tomaten te gebruiken.
Als u toch van plan bent, gebruik te maken van verse tomaten, zorg ervoor dat de tomaten dan goed rijp zijn.
Marinara saus ingrediënten:
1/4 kopje extra vergine olijfolie
4 knoflookteentjes, gepeld en fijngehakt
35 gr (1 blikje) hele tomaten met de sap erbij
Zout naar smaak
Geplette rode peper naar smaak of zwarte peper
10 – 12 verse basilicum bladeren, gescheurde
1/2 theelepel gedroogde oregano
1 Open uw blikje tomaten en maak ze met de hand fijn in een kom en zet ze opzij.
2 Verwarm de olie in een grote steelpan met middelgrote hitte. Uw knoflook toevoegen aan de olie en kook tot ze zacht en licht bruin zijn.
4 Voeg voorzichtig de tomaten samen met hun sap in de pan met de knoflook en olie. Wees voorzichtig met het toevoegen van de tomaten aan de hete olie. De olie kan spetteren. Voeg de oregano toe.
5) Roer het mengsel en breng aan de kook. Maak op smaak met een beetje zout en rode of zwarte peper. Dan het vuur lager zetten, prak de tomaten totdat uw saus gepureerd is. Laat de saus sudderen tot hij wat dikker wordt, ongeveer 20-25 minuten.
6) Een paar minuten voordat de saus klaar is, verse basilicum toevoegen. Proef de saus en voeg meer zout of peper toe indien nodig.
7) Serveer uw favoriete pasta.