Manuel ChocoDrink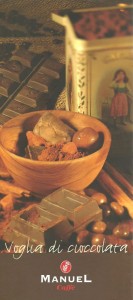 België staat bekend als nummer 1 om de heerlijke chocolade, die je daar kunt kopen en waarvan miljoenen mensen dagelijks wereldwijd genieten. Zwitserland is een goede tweede. Maar als er één land de snelste stijger is, vooral als het dan om chocoladedrank gaat, dan wordt dat Italië. Sinds vorig jaar bijvoorbeeld heeft Manuel Caffe, een van huis uit Italiaanse koffiemelangeur en brander, onder eigen label een 18-tal chocoladedrank-smaakvariaties voor thuis, op het werk en in de horeca geïntroduceerd. Een heerlijke balans tussen chocolade en de verrassende smaken als rum, peer, whiskey, aardbei, kersen en bosbessen.
Zoals de stijlvolle Italiaan betaamd, wordt het serveren van de chocoladedrank vergezeld van een prachtig gestyled servies. Een romige volle chocoladesmaak met vele nieuwe ontdekkingen als variaties is het positieve gevolg. Inmiddels ziet onder andere de horeca de potentie en daarom is Manuel chocolade inmiddels op de kaart gezet bij onder andere Hotel Carlton Oasis te Spijkenisse.
Italianen staan vooral bekend om de bijzonder stijlvolle producten. Of het nu om mode, Italiaans eten of auto's gaat, Italië weet de mens door emotie in het hart te raken. Nu ook dus met chocolade, het wordt steeds leuker in Nederland. Straks zijn we niet meer zo nuchter als we altijd waren, maar smelten we langzaam maar zeker…….