Opa: eetcafé met een hart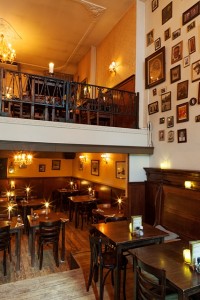 Liefdevol huisgemaakte gerechten, vlees dat op z'n minst van scharrelende dieren komt, eigengemaakte mayonaise en biologische groenten domineren tegenwoordig de kaart van Eetcafé Opa aan de bruisende Witte de Withstraat in Rotterdam. Het resultaat van een eigengereide onderneemster en een lang traject van vaak vallen en steeds weer opstaan.
Een warm interieur dat zo uit je opa's huiskamer had kunnen komen, Rotterdamse nuchterheid achter de bar en een relaxte sfeer maken van Eetcafé Opa een plekje waar een klant zich meteen thuis voelt. Eigenaresse Iris Wulffraat. "Eetcafé Opa is geen concept, Opa is een gevoel." Een gevoel dat tien jaar nodig heeft gehad om te worden tot wat het nu is. Roerige jaren waarin Wulffraat vaak onderuit ging en net zo vaak weer opkrabbelde. Het resultaat is een warm eetcafé met eigenzinnige bedrijfsvoering.  "Ik ben geen doorsnee ondernemer. Ik ben eigenzinnig maar betrek mijn medewerkers altijd bij mijn bedrijfsvoering. Binnen het team heeft iedereen evenveel verantwoordelijkheid en voelt zich daardoor ook meer betrokken. Mijn bedrijf run ik anders dan anderen, maar vooral met liefde. Dat is waar Opa over gaat. Liefde voor de zaak, voor mijn personeel, voor de gasten en voor de gerechten die we serveren."
Muren vol geschiedenis
Opa opende in 1993 zijn deuren aan de bekende Witte de Withstraat in Rotterdam. De zaak is vernoemd naar zijn eerste eigenaar, die de bijnaam Opa droeg omdat hij zo goed als grijs was. In die tijd verschenen de eerste fotolijstjes aan de muur, meegenomen door een klant. Vele gasten volgden en nog steeds brengen mensen lijstjes met foto mee die op de muren van het eetcafé komen te hangen. Ieder lijstje heeft een eigen verhaal, het is één van die dingen die Opa volgens Wulffraat zo bijzonder maakt. "Het is een soort gedenkplek. Stiekem ben ik de afgelopen tien jaar getuige geweest van heel veel levens van onze gasten. Er zijn hier de nodige relaties ontstaan en er zijn al heel wat Opa baby's geboren." Het grootste compliment dat je Wulffraat kunt geven is dat er nooit iets veranderd is in Opa. "Het was echt een vieze bende toen ik het overnam. Door de jaren heen heb ik heel veel gerestyled, maar de sfeer heb ik altijd behouden, de bijzondere energie die hier hangt."
Place to be
De sfeer van Opa mag dan hetzelfde zijn gebleven, de omgeving is wel veranderd. Toen Opa startte, was de Witte de Withstraat een behoorlijk verloederde plek waar vooral veel dubieuze bedrijfjes gehuisvest waren. Halverwege de jaren negentig veegde de gemeente Rotterdam de straat schoon en toverde de straat om tot place to be, waar winkels, restaurants, kleinschalige hotels, musea en galerietjes elkaar afwisselen. En waar Eetcafé Opa het stralende middelpunt is, dé plek om neer te strijken voor een gezellige borrel, een snelle hap of een uitgebreid diner.
Hart voor horeca
Het kloppende hart van Opa is eigenaresse Iris Wulffraat. Na allerlei verschillende baantjes te hebben uitgeprobeerd, verloor ze haar hart aan de horeca. Ze begon in de Rotterdamse Danssalon, maar stopte met haar werk omdat ze een zoon kreeg die ze in haar eentje ging opvoeden. Maar de horeca bleef trekken en op de avonden dat ze oppas had voor de kleine werkte ze bij eetcafé Opa. Zelfs nadat volgens Wulffraat 'een wit paard met gierende banden voor de zaak stopte' met in het zadel de man waarmee ze tot op de dag van vandaag haar leven deelt. En waarvan ze nog een kind kreeg. Maar de horeca bleef lonken en om af en toe uit de luiers te zijn, stond ze weer achter de bar. Ze creëerde voor zichzelf een baan door de administratie van Opa op zich te nemen. Opa werd met dank aan haar administratieve kwaliteiten steeds meer een bedrijf. Toen de eigenaar van Opa besloot het te verkopen, leek het dan ook niet meer dan logisch dat Wulffraat het van hem zou overnemen. Zowel de bank als investeerder Heineken zagen het zitten en ze waagde de stap.
Betaalbare gerechten
Een eigen zaak runnen bleek een heel ander verhaal dan achter de bar te staan. Collega's werden ineens personeel en ineens kwamen er zaken als inkoopbeleid en personeelsmanagement bij kijken. Wulffraat: "ik wist van niets en we draaiden flink verlies. Maar ik zette door. Uiteindelijk besloot ik twee echte horecajongens aan te nemen die wel de klappen van de zweep kenden. We introduceerden eenvoudige en betaalbare maaltijden waarvoor we de producten voordelig konden inkopen. Eigenlijk wilde ik juist een hele goede, meer luxe menukaart, maar ik moest toegeven dat dit werkte. Ineens liep het als een trein. Het ging zo goed dat we zelfs aan uitbreiding dachten. En toen kreeg ik kanker."
Overstap naar biologisch
De diagnose luidde schildklierkanker, een zeldzame vorm van de ziekte. Wulffraat liet het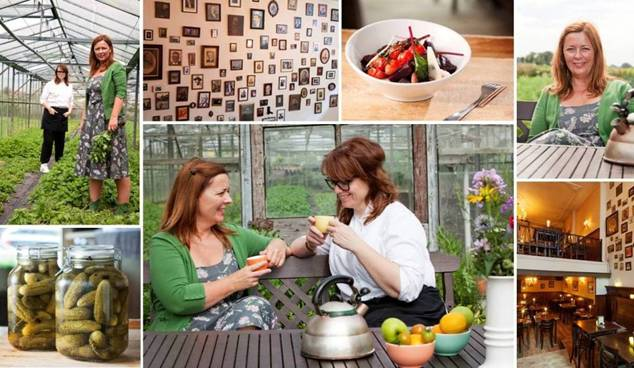 runnen van de zaak een jaar lang aan haar bedrijfsleider over en vocht voor haar gezondheid. "Gelukkig had ik de beste bedrijfsleider ooit in dienst, hij hield Opa draaiende. Ik stortte me ondertussen op beter worden en dacht bij mezelf 'als ik dit overleef, ga ik alleen nog maar doen wat ik zelf wil'. En dat betekende dus geen eetcafévoer meer, maar echt goed zelfgemaakt voedsel, liefst van biologische afkomst." Iris zocht naar een nieuwe chefkok die net zo enthousiast is over de biologische keuken als zijzelf en vond haar in de persoon van Renata Boes. Wulffraat: "een geweldige chefkok die lekkere, niet al te ingewikkelde gerechten bereidt. Alles is zelfgemaakt, met biologische producten."
Koken uit overtuiging
Een kaart vol huisgemaakte, biologische gerechten vergt een andere bedrijfsvoering dan een normaal restaurant. Opa werkt met veel verschillende leveranciers en koopt per dag in. Een arbeidsintensief en kostbaar beleid, dat niet teveel mag doorschemeren in de prijs van de gerechten. Wulffraat: "onze gasten willen eenvoudig en betaalbaar eten. Dat vraagt veel creativiteit van de kok en een strak gemanaged inkoopbeleid." Dat de marges minder zijn, neemt ze voor lief. "Ik vind dat ik een opvoedkundige taak heb, ik wil mensen laten proeven en voelen wat echte, met de hand geklopte slagroom is. Hoe echt mooi vlees smaakt. Ik doe dit echt uit overtuiging."