Plastic Soup Community bindt strijd aan met fabrikanten van verzorgingsproducten
Microplastics onnodig toegevoegd aan shampoos, gezichtverzorgers, tandpasta, lipbalsem en scheerschuim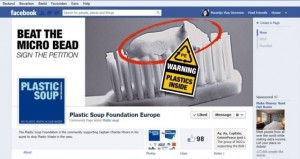 Per jaar komt naar schatting 4,7 miljoen ton plastic in zee terecht. Een deel hiervan bestaat uit microplastics of micro beads. Deze minuscule bolletjes plastic zitten in honderden gangbare verzorgingsproducten, waaronder shampoos, gezichtsverzorgers, tandpasta, lipbalsem en scheerschuim. Helaas duiken er steeds meer van deze producten op. Dat moet snel stoppen, vindt een groeiende club bezorgde non-governmental organizations (NGO's) uit de hele wereld die zich samen sterk maken voor de campagne Beat the Micro Bead.
'De producenten die deze volstrekt onnodige afvalstroom creëren, want er zijn natuurlijk afbreekbare alternatieven voor handen, doen tot op heden alsof er niets aan de hand is', zegt Maria Westerbos, voorzitter van de Plastic Soup Foundation. Onder aanvoering van Captain Charles Moore, de ontdekker van de plastic soep, de Nederlandse Plastic Soup Foundation en Stichting De Noordzee roepen de NGO's bedrijven als Unilever, Hema, L'Oreal, Rituals, Yves Rocher, Johnson & Jonhson, Procter & Gamble en vele andere op om hier zo snel mogelijk mee te stoppen.
Via een petitie wil de kersverse Plastic Soup Community een grote hoeveelheid handtekeningen verzamelen. Hiermee hopen ze dat de Europese Unie bereid zal zijn om uit voorzorg in te stemmen met een verbod op de verkoop van producten met microplastics per 1 januari 2014, of zoveel eerder als mogelijk is.
Via het doucheputje in de zee
Wetenschappers maken zich in toenemende mate zorgen om die microscopisch kleine stukjes plastic. Deze plastic deeltjes worden door het doucheputje gespoeld en komen via het riool in de waterzuivering terecht. Ze zijn zo klein dat ze voor een deel de waterzuivering passeren en uiteindelijk in zee terechtkomen. Daar hoort plastic absoluut niet thuis, vinden de NGO's.
En door naar de voedselketen
Niet alleen plankton en schelpdieren krijgen de microplastics binnen, ook vissen zijn het slachtoffer. Zij kunnen geen onderscheid maken tussen voedsel en microplastics. Giftige stoffen (zogeheten POP's) hechten zich gemakkelijk aan plastic en komen zo in het lichaam van de dieren terecht. Gevreesd wordt dat die gifstoffen opgenomen worden in de voedselketen. 'Als wij vis eten, bestaat dus het risico dat we gifstoffen binnen krijgen', aldus Westerbos.
De campagne wordt ondersteund door Algalita Marine Research Institute, 5Gyres, Natuur & Milieu, Plastic Pollution Coalition (met meer dan 150 aangesloten organisaties wereldwijd), de Waddenvereniging, Seas at Risk, Greenpeace, Sea First, Marine Conservation Society, Surfrider Foundation Holland, Deepwave, Project Blue Sea, Duik de Noordzee Schoon en Plastic Oceans Foundation. Vrijwel dagelijks sluiten nieuwe NGO's zich aan bij de Plastic Soup Community. Vandaag zijn Surfrider Foundation Europe en European Environmental Bureau (EEB), een federatie van 140 milieuorganisaties, toegetreden tot de community.
Kijk hier voor een lijst met verzorgingsproducten die microplastics bevatten: http://www.noordzee.nl/wp-content/uploads/2012/08/Lijst-producten-MET-plastic-augustus.pdf
En bekijk de video op: http://www.youtube.com/watch?v=voWTpAE9pqQ&feature=youtu.be
Over de Plastic Soup Community
De Plastic Soup Community is een samenwerking van verschillende organisaties die zich willen inzetten voor de strijd tegen plastic in de zee. Per jaar komt naar schatting 4,7 miljoen ton plastic in zee terecht. Dat is gemiddeld 12.000 ton per dag. Bijna al het plastic dat ooit in de wereld gemaakt is, bestaat (op verschillende manieren) nog steeds. Experts voorspellen dat plastic wel duizend jaar oud kan worden. UNEP, de milieuafdeling van de Verenigde Naties, schat dat zeeafval jaarlijks 100.000 zeezoogdieren en minstens één miljoen zeevogels het leven kost. Zij hebben plastic soep als een van de drie meest urgente milieu-issues aangewezen. Plastic soep is de verzamelnaam voor de ernstige problemen die plastic in zee veroorzaakt.  Kijk voor meer informatie op: http://plasticsoupfoundation.org/ en op http://www.noordzee.nl/.