Rajacenna op cover amerikaans magazine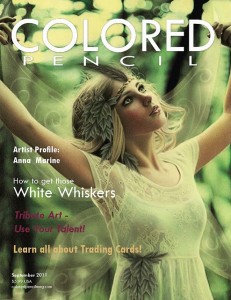 Tekening 'fairy of the magical forest' in 2010 gemaakt met kleurpotlood door Rajacenna, staat deze maand in het septembernummer van het amerikaanse magazine 'Colored pencils'.
'Colored pencils' is het eerste magazine in print ter wereld dat gewijd is aan kleurpotloodtekeningen. Tekeningen maken met kleurpotlood, is een zeer moeilijk medium wordt erg weinig gehanteerd onder de kunstenaars. Rajacenna behoort tot de weinige tekenaars die deze discipline machtig zijn.
Toen Rajacenna 16 jaar was, werden er al een aantal van haar fotorealistische tekeningen gepubliceerd in het amerikaanse kunstboek 'Amazing pencil portraits 2'. Waardoor zij direct behoorde tot de beste tekenaars ter wereld.
Onlangs tekende zij nog een contract in Spanje met één van de meest toonaangevende licensing agentschappen ter wereld. Rajacenna wordt nu wereldwijd vertegenwoordigd door 3 agenten in Engeland, Spanje en Nederland.