Respect niet (meer) te koop….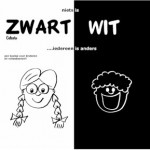 Deze maand heb ik besloten om mijn boekje uit de handel te nemen en het ISBN nummer op te heffen.
Niets is zwart wit…..iedereen is anders' geeft aan alle 'verzorgers' van kinderen in de ruimste zin van het woord één van de eenvoudigste en tegelijkertijd één van de belangrijkste eerste levenslessen. Aan de hand van grappige afbeeldingen vertelt dit boekje aan kinderen, en aan volwassenen, dat iedereen er anders uit ziet. En dat is leuk! Zo wordt duidelijk dat ieder mens iets unieks heeft en dat maakt onze wereld juist zo interessant. Het is leuk als je op elkaar lijkt, maar het is ook leuk als je niet op elkaar lijkt. Geniet van elkaars gezelschap. De kinderen kunnen zichzelf in het boekje tekenen.Bijvoorbeeld hun eigen ogen of mond. Als iedereen over de hele wereld dit boekje (voor)leest en de boodschap doorvertelt, wordt de wereld een stuk gezelliger.
In 2008 ging het boekje de winkel in en omdat ik vind dat het niet voldoende verkoopt, is het tijd om ermee te stoppen. De relatief hoge productiekosten van het boekje, zorgden ervoor dat de consumentenprijs
niet erg aantrekkelijk kon worden gemaakt. Ook dit feit is een oorzaak voor de tegenvallende resultaten. Ik ben er in ieder geval blij mee dat Socmut in Belgie destijds 500 exemplaren heeft afgenomen. Socmut is een organisatie die voorlichting geeft en tevens uitvoerend orgaan is op het gebied van zorg, zorgverlening en kinderopvang.
Er staan hier nog altijd 800 stuks in voorraad; we zijn nog wel in gesprek met een mogelijk koper, maar als iemand anders interesse heeft of iemand kent die er iets mee zou willen, laat het me dan even weten.