Stadsganzenbord Amsterdam: nieuwe cultuurhistorische puzzeltocht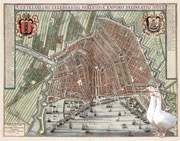 Het Stadsganzenbord Amsterdam is een gloednieuwe puzzeltocht voor groepen, waarbij men zijn weg vindt door de stad met een 17e-eeuwse plattegrond. Het Stadsganzenbord is uitgegeven door Groepswijzer.nl en was al verkrijgbaar in Haarlem, Delft, Leiden, Den Haag en Dordrecht.
In 1649 werd een dik en groot boek uitgegeven: het Tooneel der Steden, gevuld met plattegronden van Joan Blaeu. Deze plattegronden bevatten een rijkdom aan details: ieder huisje en zeker ieder groter gebouw is in detail te zien en zelfs het kleinste steegje is terug te vinden.
Tijdens het groepsarrangement Stadsganzenbord Amsterdam zoeken teams van deelnemers hun weg in de stad aan de hand van zo'n 17e-eeuwse plattegrond. Kijken en vergelijken leidt tot allerlei verrassingen. Over gebouwen die er toen ook al stonden. Of juist niet. Over verdwenen stadsgezichten of het nauwelijks gewijzigde stratenplan. Maar daarnaast moeten de teams ook vragen beantwoorden en opdrachten maken, die een scherp oog vereisen. Zo leert men de stad en haar geschiedenis kennen op een speelse en verrassende manier.
Het Stadsganzenbord Amsterdam kan geboekt worden bij Groepswijzer.nl. Meer info op: www.stadsganzenbord.nl