Suske en Wiske gaan voor meer MOED!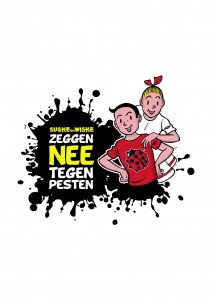 De Landelijke StichtingTegenZinloosGeweld en Standaard Uitgeverij starten in september de scholenactie: Suske en Wiske zeggen nee tegen pesten! Alle basisscholen in Nederland worden uitgenodigd om hier aan mee te doen. Suske en Wiske en de stichting nodigen alle kinderen uit om het probleem pesten in de klas met elkaar meer bespreekbaar te maken.
De start van de actie vindt plaats in Amsterdam. Suske en Wiske gaan Nederland wakker schudden!
Op woensdag 26 september 2012 wordt als start van de scholenactie op de Beursgong van NYSE Euronext geslagen. De scholenactie vraagt tips aan de kinderen die later door een jury als 10 beste tips aan alle basisscholen wordt aangeboden. Suske en Wiske vragen: "Zeg nee tegen pesten en geef ons een goede tip om dit  te voorkomen en tegen te gaan". Aan het eind van de actie worden de 10 tips door Suske en Wiske op een school gepresenteerd en zijn te downloaden via de website www.moed.nl
Wil jij samen met Suske en Wiske aan iedereen vertellen dat pesten en geweld stom is? Zit jij dit schooljaar in groep 7 of 8 en wil jij ook op woensdag 26 september om 08.30 uur in de ochtend in Amsterdam op de Beursgong slaan en heel Nederland wakker schudden? Ja? Stuur dan snel een mailtje naar contact@moed.nl en wie weet zien wij je dan straks in Amsterdam.
Landelijke StichtingTegenZinloosGeweld
De Landelijke StichtingTegenZinloosGeweld stimuleert en ondersteunt met haar visie Moed initiatieven voor verbetering van de woon- werk- en leefomgeving en streeft naar een samenleving waarin iedereen zich bewust is van de oorzaken en gevolgen van pesten en geweld. Dit o.a. met succesvolle bewustwording en voorlichtingsprojecten op basis- en middelbare scholen. Het tot stand brengen en ondersteunen van acties in woonwijken en buurten, uitgaansgebieden en het begeleiden van activiteiten voor sportverenigingen.
Suske en Wiske
Suske en Wiske zijn al 65 jaar het bekendste stripduo van de Lage Landen. Al meer dan 310 albums beleven de twee helden de spannendste avonturen op de mooiste plekjes van deze aarde. Zo reizen ze met de teletijdmachine van professor Barabas mee naar de prehistorie of de middeleeuwen en verkennen ze de uithoeken van ons sterrenstelsel en ontmoeten vreemde en nieuwe beschavingen. Maar gelukkig staan ze er in hun belevenissen niet alleen voor, want altijd zijn daar: Lambik, met zijn uitzonderlijke fratsen, de altijd trouwe Sidonia en Jerom, de sterkste mens ter wereld!