(teken)wonderlijk jaar
2010 gaat de boeken in als een wonderlijk jaar voor ons gezin. Dit was het jaar waarin wij ineens de ouders bleken van een tekenwonder. Eind vorig jaar werd Rajacenna (toen 16) ontdekt en benaderd door een
Amerikaanse uitgeverij met het verzoek om werk van haar te publiceren in 'Amazing pencil portraits 2′. Dit boek bevat potloodportrettekeningen van de talentvolste tekenartiesten ter wereld.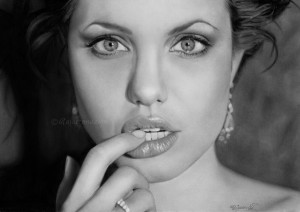 Rajacenna tekende toen net twee maanden realistisch en behoort dan in één keer tot de beste tekenaars ter wereld. Dit fenomeen is erg zeldzaam: volgens experts is het uniek in de wereld dat iemand op zo'n jonge leeftijd al zo'n talent heeft voor realistisch tekenen. Zeker gezien het feit dat ze nooit tekenles heeft gehad. De potloodtekeningen van Rajacenna zijn nauwelijks van een echte foto te onderscheiden. Het heeft voor mijzelf zeker een half jaar geduurd voordat ik geloofde wat ik steeds zag, als mijn dochter weer een tekening af had. Ik heb vaak vol ongeloof met open mond staan te kijken naar de tekeningen. Uit de vele reacties die zij dagelijks ontvangt van fans, blijkt dat zij hetzelfde hebben (bij het bekijken van de video's). Ik weet nog dat ik op Twitter zei dat ik niet wist of ik de tekeningen van Rai nu moest twitteren of niet. Aldith Hunkar riep nog: 'nee joh, doe maar niet, dat moet je voor jezelf houden' of iets in die trant. Ik  twitterde het toch en Joke Geerligs en ProudLissy waren de eerste enthousiastelingen die riepen hoe mooi ze de tekeningen vonden.
Nadat Rajacenna ook nog videofilmpjes van haar werk van Justin Bieber en Lady Gaga op Youtube zette, werd ze opgemerkt door de media en verscheen ze in onder andere Hart van Nederland, RTL Boulevard en Life4you. Dit resulteerde in nog meer aanvragen om portretten te maken dan dat ze tot dan toe al ontving. Maar ook de geschreven media schonk volop aandacht aan haar.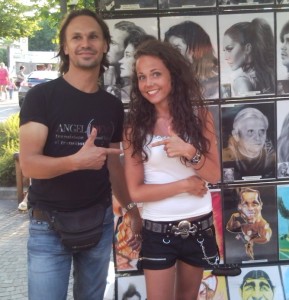 "Ik ben in totale choque", zegt Giancarlo Zavattin toen ik hem afgelopen zomer het youtube-filmpje liet zien, waarin te zien is hoe Rajacenna Lady Gaga tekent. "Ze tekent heel realistisch en ze hanteert een zeer aparte stijl van tekenen. De huid tekent ze ongelooflijk goed, erg soft".
De 33 jarige portrettekenaar uit Noord-Italië, die de inspiratiebron voor Rajacenna's tekenkunsten was, kon zijn ogen niet geloven toen hij hoorde wat er het afgelopen jaar met Rajacenna gebeurd was. "En ze had nog nooit eerder getekend?", vraagt hij nogmaals. Zelf heeft Giancarlo de tekenkunst van zijn vader geleerd. Dat uitgerekend hij vorig jaar de inspirator is geweest voor zo'n groot tekentalent, is voor hem een volslagen verrassing.
Inmiddels is Rajacenna een begrip onder de jeugd geworden en heeft ze al vele kinderen geinspireerd om ook te gaan tekenen. Haar tekeningen hebben zich intussen razendsnel verspreid over het internet en wordt ze over de hele wereld besproken. Veel kunst- en tekenleraren overal ter wereld, gebruiken haar filmpjes en tekeningen als voorbeeld in hun lessen op school.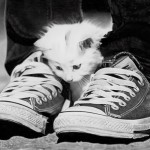 Dit jaar stond Rajacenna ook in de Viva400 als één van de meest indrukwekkenste vrouwen van Nederland. Ook heeft ze de 'Born to Lead'-award gewonnen bij CosmoGirl welke op zes januari in de winkel ligt. Er gaan in de toekomst nog een hoop dingen gebeuren rond Rajacenna; om te beginnen is ze vanaf nu onder contract bij het Amsterdamse 'Artbox' die haar nu exclusief vertegenwoordigt. Artbox behoort tot de meest vooraanstaande artagencies die wereldwijd opereert,  met tachtig kunstenaars in het bestand die designen voor de grote merken en bedrijven.
Geboorte van een tekenwonder (bevallingsverhaal)
Rajacenna's website: http://www.rajacenna.com