Wanneer ben je ondernemer?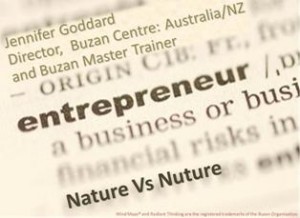 1989 was het jaar dat ik samen met mijn echtgenoot zelfstandig ondernemer werd. We waren toen allebei 23 jaar en in die tijd was ondernemen op die leeftijd nog een zeldzaamheid. Als je überhaupt al ondernemer werd, was dat meestal op wat latere leeftijd.
Dat is tegenwoordig wel anders, vandaag de dag schieten de nieuwe ondernemers als paddestoelen uit de grond. Iedereen wil tegenwoordig self-employed zijn en registreert zijn nummertje bij de Kamer van
Koophandel. Of dat nummertje na vijf jaar nog onderneemwaardig is, valt nog te bezien. Er wordt wel eens gezegd dat je pas van een echte ondernemening mag spreken als je vijf jaren er op hebt zitten en er een winstgevend bedrijf van hebt kunnen maken. 76% haalt die vijf jaar niet.
Er wordt tegenwoordig wel erg losjes met het woord 'ondernemer' omgegaan en iedereen denkt zichzelf maar ondernemer te kunnen noemen. In de VS gaat het zelfs zo ver dat drugsdealers ook al entrepreneurs worden genoemd door de media. Eigenlijk zouden we niet zo slordig met het woord 'ondernemen' moeten omspringen en de betekenis ervan goed moeten begrijpen.
Wanneer ben je ondernemer/entrepreneur?
Naar aanleiding van de vele 'pseudo'-ondernemers die ik op internet tegenkom, ben ik maar eens een onderzoekje gestart naar het zich werkelijk ondernemer mogen noemen.
Men is pas ondernemer/entrepreneur als men met niets meer begint dan een idee voor een nieuwe onderneming, en de bekwaamheid daarvoor bezit om dit tot een punt te brengen dat je er helemaal financieel zelfstandig van kan leven. Dus voor alle duidelijkheid: ondernemer zijn, is geen bijbaan hebben. Iedereen die zich dus op intenet te pas en te onpas zomaar ondernemer of entrepreneur noemt en dus nog niet van het bedrijf kan leven, is dus eigenlijk geen echte ondernemer of entrepreneur.
Er moet wel degelijk verschil gemaakt worden in de soorten 'ondernemers'. Zo horen bijvoorbeeld de mensen die een bestaand bedrijf overnemen en daarna voortzetten, danwel uitbreiden, verbeteren of vernieuwen, niet bij de échte ondernemers. Zij worden 'innovators' genoemd. Als je een bestaand bedrijf overneemt, inclusief fabriek, werknemers, geldstroom, voorraad en klantenbestand, dan kun je niet spreken van echte ondernemers. Natuurlijk moet je zeer bekwaam zijn om zo'n bedrijf te runnen en creatief en een survivorsmentaliteit hebben. Maar toch doen zij 'het' anders dan 'de ondernemer'. De man die bijvoorbeeld de McDonalds-hamburger heeft gemaakt en van een klein hamburgertentje een bekend en goedlopend bedrijf maakte was een pionier en ondernemer, maar degenen die de hamburger uiteindelijk onder hun hoede namen en groot maakten, zijn zakenmensen en innovators, maar bovenal 'Oners'. 'One-ers' zijn mensen die ooit aan één enkele bedrijfsactiviteit beginnen en daar geen herhaling van maken zoals de entrepreneur dat doet.
Zo ook iedereen die een bedrijf erft en overneemt van zijn of haar ouders kunnen niet onder entrpreneurs gerekend worden. Dan heb je ook nog diegenen die kleine of failliete bedrijven opkopen en er daarna een gezond bedrijf van maken: die mensen behoren tot de sectie 'slimme accountants' en niets meer dan dat.
De pionier is een persoon die baanbrekend werk verricht, iemand die als eerste iets doet waardoor anderen het later ook kunnen doen.
Hoe dan ook; een echte ondernemer begint met niets en bouwt dan een bedrijf op. Ze beginnen met niets meer dan een concept, een paar contacten, misschien wat geld plus alle immateriële kwaliteiten die belangrijk zijn voor succes in een nieuwe onderneming. Dat is alles. Ze maken geen gebruik van vertegenwoordigers, kantoorpanden, telefoons, computers, boekhoudsystemen, geen klanten en suppliers. Het is aan hun de taak om alles samen te stellen en tien verschillende petten op te zetten, te jongleren met twintig verschillende ballen en te vertrouwen op hun eigen intuïtie, kennis en creativiteit om na verloop van tijd geld te laten rollen.
De beste ondernemers zijn hier meester in, wat niet altijd inhoud dat ze 's werelds beste zakenmensen zijn. De beste ondernemers zijn vaak diegenen die eerst een aantal mislukkingen hebben ondergaan en die daarna weer teruggekomen zijn. Zij weten precies hoe ze weer vooruit moeten komen vanuit een failliete positie en zullen net zo lang doorgaan totdat ze daarin slagen. Zij zijn degenen die goed zijn in een business starten en blijven dit steeds weer doen.