Wie goed doet, goed ontmoet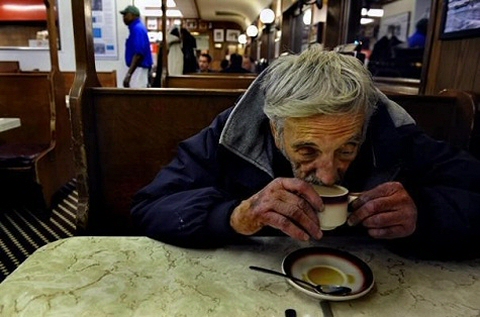 Geef zonder iets terug te verwachten
Als je de kans hebt om iemand te helpen, al is het met iets heel eenvoudigs, dan hoor je die kans ook aan te pakken. Geef elke dag iets, aan wie dan ook, zonder iets daarvoor terug te verwachten.

En dit maakt het eigenlijk nog leuker; je bent behulpzaam, je maakt iemand blij en dat geeft jou sowieso een prettig gevoel. Hoe leuk is dat? Dat zouden meer mensen moeten doen! Ik sta er zelf 100% achter en Alexandra van de website met onthullende en positieve artikelen www.niburu.co denkt er precies hetzelfde over.
Koffie van een onbekende vriend
Zo kwam ik onlangs met haar in contact via onze zakelijke partner Molotov Events. Het betrof een artikel over een Italiaanse gewoonte: 'uitgestelde koffie'. Het komt hier op neer: als je in een koffiebar een koffie bestelt, kun je direct een uitgestelde koffie kopen. Deze koffie drink je niet zelf, wordt op dat moment ook niet bereid of geserveerd, maar wordt op een lijst gezet. Als er op een later tijdstip iemand een koffie wil drinken, maar daar geen geld voor heeft, kan hij of zij vragen of er uitgestelde koffies op de lijst staan en die wordt dan geserveerd. Een sublieme manier van het helpen van de medemens, jezelf een perfecte mindset bezorgen en bovenal doen waar het allemaal om draait in de wereld: aan elkaar denken en vriendelijk zijn voor elkaar wanneer je maar kunt. Mijn familie van enkele generaties terug komen van origine uit Napels, precies de plek waar de uitgestelde koffie is ontstaan.
Trots en schaamte
Een trotse Italiaan komt er liever niet voor uit dat hij of zij een uitgestelde koffie moet bestellen. Maar omdat in Italie er op vrijwel elke hoek van de straat wel een koffiebar is, kent de eigenaar al snel de vaste klanten, is een blik vaak al genoeg en is er geen reden voor schaamte. In Nederland zal het minder snel voorkomen dat een uitgestelde koffie wordt besteld, dan in het relatief arme zuidelijke Italie. Maar de crisis helpt dit superinitiatief om zelfs in het relatief rijke Nederland een gewaardeerd en absoluut succes te worden. 'La vita e bella', oftwel 'het leven is mooi', ook voor de minderbedeelden. Nu is het alleen nog maar een kwestie van tijd totdat het ijsje, heel bruin brood, diner of televisie kan worden 'prepaid' oftewel uitgesteld besteld voor je onbekende vriend(in).
Kijk op uitgesteldekoffie.nl voor meer informatie en deelnemende koffiebedrijven. Wij als Manuel Caffe willen iedereen oproepen om hieraan mee te werken. Alle horeca-ondernemers: laat weten dat je uitgestelde koffie aanbiedt, promoot het en zorg dat iedereen er happy van wordt!