Geheim van miljonairs?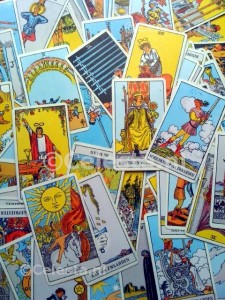 Al eeuwenlang laten veel miljonairs, succesvolle zakenmensen, regeringsleiders, vorsten, en hooggeplaatsten zich regelmatig raadplegen door middel van astrologie, de tarot of een paragnost.
Het is gebleken dat tarot een betrouwbaar medium is om, naast de eigen verstandelijke beslissingen, toe te passen als hulpmiddel bij grote of kleine beslissingen.
Veel bekende namen waarvan u en ik het niet verwachten maken dus regelmatig gebruik van verschillende mediums. Je zou zeggen dat deze mensen zelf over voldoende kennis en inzicht beschikken om de juiste beslissingen te nemen. Zakendoen vereist snel reageren en bij gebruik van een medium zul je een snellere en grotere voorsprong hebben.
Zakendoen in het algemeen is tegenwoordig minder makkelijk dan vroeger. Door de digitale revolutie wordt men overspoeld met teveel informatie waardoor men veelal niet meer objectief kan handelen en de focus vaak verdwijnt. Onze natuurlijke intuïtie komt hierdoor in het geding en daardoor luisteren we minder of zelfs geheel niet meer naar onze innerlijke stem. Dit alles kan erg verwarrend werken als er belangrijke zakelijke beslissingen moeten worden genomen.
Zakendoen is dus meer dan hard werken en geluk hebben. De meest succesvolle zakenmensen blijken achteraf hun succes te danken te hebben aan een effectieve combinatie van hun intuïtie, hun netwerk en astrologie, tarot of paragnosten.
Tarot laat je een toekomstbeeld zien, zodat je kunt bekijken of je op de goede weg bent. De tarot geeft je desgewenst een advies hoe je dit toekomstbeeld zelf kunt beinvloeden. Het biedt informatie, uitgangspunten en uitkomsten bij een voortzetting of verandering van levenswijze. Het geeft uitkomsten aan bij bepaalde keuzes. En dat maakt het extra interessant, want dit zegt dat je altijd kan kiezen en kan veranderen.
De kaarten zeggen zeker ook van alles over je karakter en bieden ook daar nieuwe mogelijkheden voor de toekomst.
Al met al begrijp je je eigen leven zo steeds beter en maakt dit de ontwikkelingen in je leven soms sneller duidelijk en soms gemakkelijker.
voor aanvragen kaartleggingen klik hier