Hoe begint Pedro in Spanje zijn werkdag?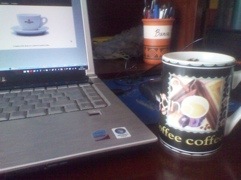 Hoe begint Pedro Bermejo van the Council of Villanueva de la Serena in Spanje zijn werkdag?
My working day starts around 8:00 a.m. I usually have a large cup of soluble cocoa and a glass of orange juice at first hour.
I come to the office at 9:00 a.m. and the first things I do at work is receiving working orders for the day, checking emails and phone messages and, when I have no backlog, reading some morning newspapers on the Internet.
At about 10:00 a.m. I look for information in the Official Gazette to get news about recent legislation from Local, Regional and National Governments, specially related to my city.
At 10:30 a.m. I own half an hour for free time so I go to a nearby Cafe and I have a white coffee or a capuccino (I don´t like black coffee very much) and a toast with cured ham, crushed tomatoes and olive oil.
Finally, I spent the rest of the working day preparing attendance reports, attending phone calls and controlling entrances and departures of equipments, vehicles and personnel working for the Council's Service of Public Works.