Cool Life with coffee, celebs & tarot
Somebody once said to me "wow, you must have a cool life!"; referring to the privileges I had to meet international celebrities and all the many things that I've done in my life. But sometimes things are not really what they appear on first glance.
My life was not always that healthy and successfull as it in first impression seems. In my life I learned that you can go from successfull to unsuccessfull and than can go up again. All is possible in life and you can change it any direction you want; but I don't tell you that it's easy.
The following is an overview from what I have done in my life mostly while being sick. All things done where always automatically followed by drastic physical breakdowns resulting in many health issues and forced bed ridden actions. Between that all I try to keep myself going on with life and the things that I wanted to do.
My previous life
I have done so much in the past 27 years that I could write an entire book about that.
All the experiences I have had in more than a quarter of a century are quite explosive, interesting as well as painful and hard. I think I can say that I have done a lot of fun stuff, have had many problems, had to solve many issues and have had experiences for some five hundred years.
I had a life before I became self employed (1989) and then came a very intensive life after I became entrepreneur.
My entire youth was dedicated to judo, soccer and jazzdance; between the lines I also played the piccolo at the local drumband. I was always very active and never really had a lazy moment.
So my previous life is one big other episode of my life and one of the most safest times without worries; but that was before I became an adult.
Self employment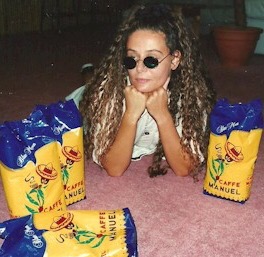 Starting out in coffee business I never had the intention of a working life for a boss, so for me it was very logical to start a business. I did that in 1989 together with my husband; we were just 23 years at the time and full of energy to make everything work. We knew each other from highschool when we were 16 and knew each other quite well.
We started out in the coffee business, which was all new to us; in fact we didn't know anything about coffee. My Italian girlfriends family owned a coffee factory. So that is how we got into a world of espresso coffee. And a fine one too! I don't say that because this coffee is our brand and business; as I wouldn't have liked the coffee at all at that time, I would not have wanted to sell it. We became exclusive importer of their brand and sell the coffee to hotel and catering industry; restaurants, coffeebars, retailers, offices.
We also opened our own coffeeshop where people and clients could taste our coffee and where they also could buy our coffee beans for use at home.
We had build a very nice business of ourselves and financially we did very well.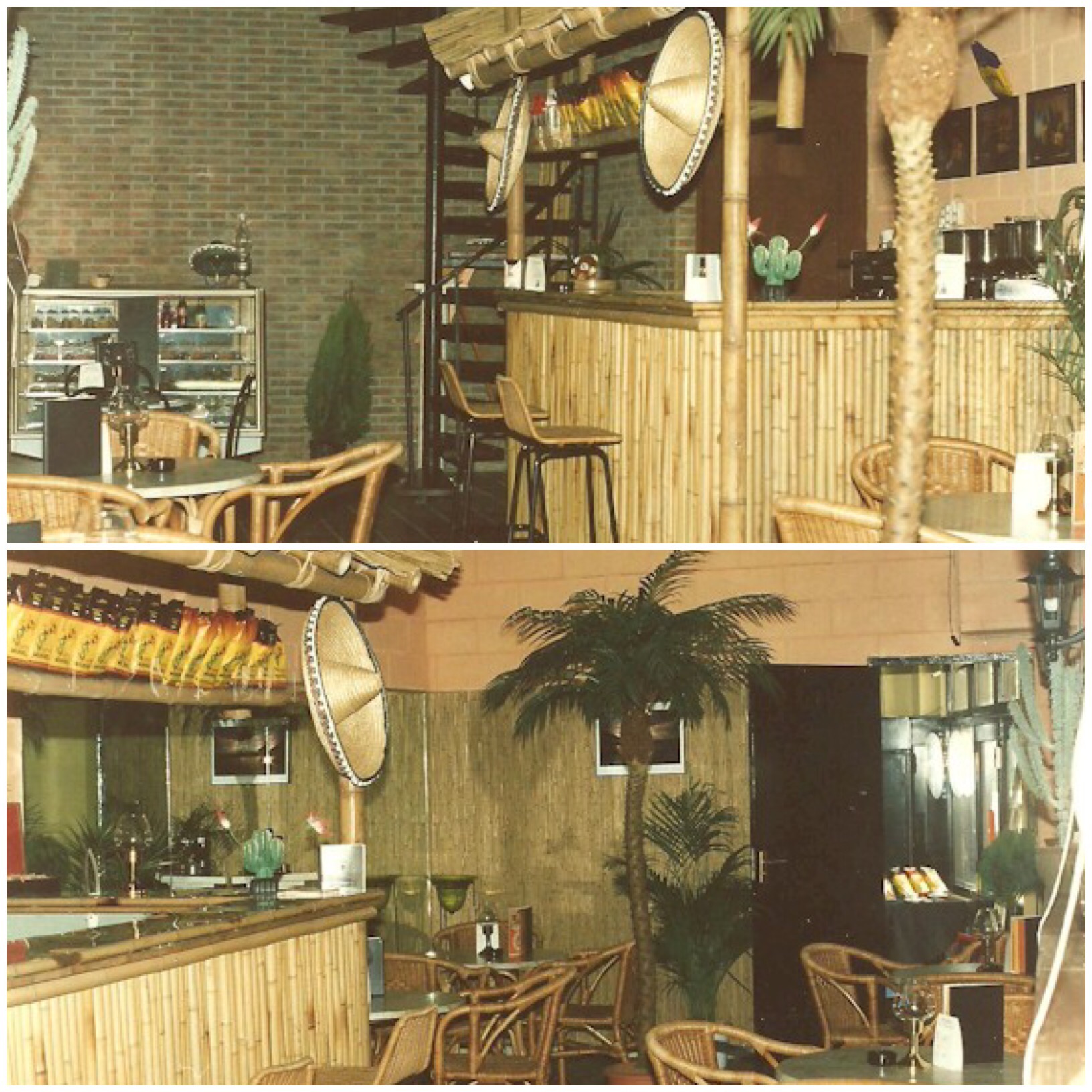 Wrestling through life
From the moment I gave birth to my daughter in 1993, my body didn't react as energetic anymore as it should be and from that time I had suffered the chronique fatigue syndrome.
Those years I wrestled myself through my daily life with our business and child. That was very hard; at that time I didn't know what was going on with me and I covered my husband with all my frustration. The result was that all of our initial energy of running a good business dissappeared over the years.
We went on untill 1999 and suddenly realised we were broke due to lack of effort and due to investing insane amounts of money in healthcare. So we had to figure out how to survive our homely crisis and we created several different extra businesses which we liked and we were able to do within our possibilities.
Webdesign & webhosting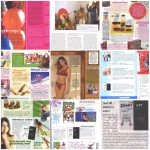 We set up a webdesign and webhosting business; in that time (2001) that market was still coming up so we could still manage our way through getting clients easily. I already tought myself some html skills and I made all of the websites manually without any preprepared cms system or what so ever software which there is nowadays. In between I made several other websites (about 45) from which several became wellknown en published in the main Dutch magazines. I then created a website as one of the first internet video channels for kids. In 2005 we bought ourselves a real tv camera which we got from a guy who always had filmed for the Dutch tv and from there we started making videos and tried to sell ads.
Meeting the celebs
When I was a little girl of about five years old I wanted to be a film maker and dreamed of writing filmscripts and making them myself. So having a big tv camera was one of those dreams come true.
Than standing on the red carpet interviewing the vips and filming beyond the scenes of popular musicals was an amazing experience for me to do. Suddenly we personally knew the Dutch celebrities and they knew us and our young presenter which was our daughter Rajacenna.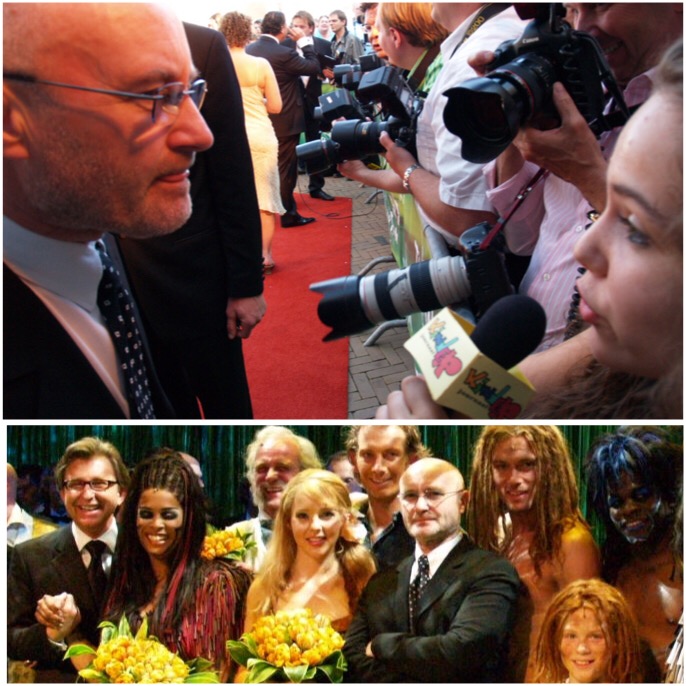 She worked out the interviews herself and was in the ability of interviewing Phil Collins, David Faustino, Lorenzo Lamas, Ken Kercheval, some wellknown actors from Harry Potter and other American wellknown actors.
We also got the chance to produce our video material for the local tv station where we live. Throughout the city our programs were broadcasted and successfully viewed.
Celebrities give advice on "How to survive first class highschool"
When we were shooting for our webtv website and while we could interview many Dutch celebrities, we also asked every vip to give some advice to school kids. Daughter and I own this website with a title that belongs to a very famous teenage book here in Holland. We were lucky to have registrated this domain a couple of years before we began with filming.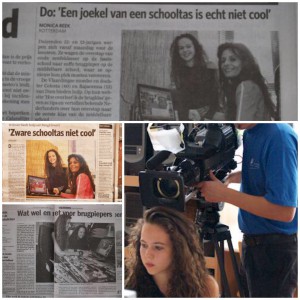 So every Dutch celebrity gave his or her story and advice on how they felt when going for the first time to highschool. The videos we made turned out to be a great success and me and my daughter got interviewed by dutch newspapers as well as an extended news item on national TV. Our website got used at many Dutch schools as part of the program when preparing for highschool

2007 paintings made by celebs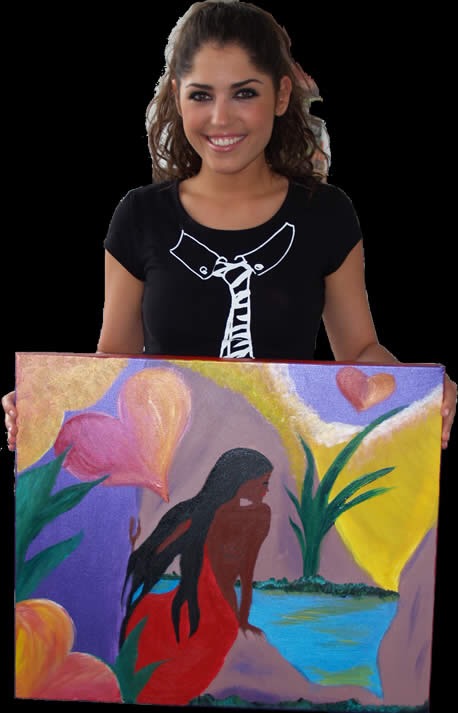 Since we were interviewing celebrities all over the places, the idea was born to do a charity project. We had the idea of letting Dutch celebrities paint for a charity cause. Since we got a lot of connections as well as personal connection with vips, it was easy to find vip contributors for our project.
We could find 33 Dutch celebrities (among them Dutch model Doutzen Kroes) who were willing to work with us. We organized a press conference with several celebs and got media attention from one of the primary show news programs of our country.
Initially there were sold some canvas reproduction printed paintings of our celebs, but unfortunately eventually the project was not quite a success for us.
Tarot revelation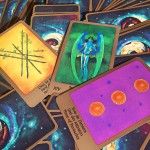 In this period of my life (2007) Tarot made it's entrance in my life. Because of health issues I couldn't do my work anymore. The only thing that helped me trough the day was watching television and lie on the couch. During this period by chance (or maybe not by chance) I saw a paranormal documentary on tv about tarot. I was immediately intrigued by the program; the manner in which they told about the tarot, totally made sense to me. That same week, husband bought a beautiful Tarot set for me and I decided to plunder the library for books on tarot.
Since then my life turned into tarot world and I became a successful incognito tarot reader on the internet. I suddenly realised that this was a part of me that I had stashed away since my childhood. It opened my mind and realized that this was really what I wanted to do from now on.
Read: Wishy washy
Edun Live
In the period after our project my husband came in contact with the organisation of U2's Bono. He and his wife Ali Hewson have a for profit organistation which produces organic clothes named Edun and also t-shirts under the brand name Edun Live. Edun Live is the quality brand t-shirt with a mission; with this organisation they try to help people in Africa to produce organic shirts and profit from all the steps in the production process. So they grow cotton, from the cotton they produce t-shirts, they color it and than sell it worldwide. Every step is taken in Africa, with Africans and also in a enviremental friendly way.
We became importer for Holland for only one year, because after that the company decided to work different for several reasons and therefore we had to stop our coworking with them. We managed to sell a large number of Edun Live shirts to the TEDex Amsterdam with a special designed print on it, that felt rewarding for us.
Nothing is black and white……everyone is different
In the meantime (2008) I also started to "write" and illustrated a childrens book.
'Nothing is black and white……everyone is different' is the title of the book. It is kind of a coloring book in which I had drawn an "imperfect" face on one side of the book and an empty page on the other side. The text that goes along with the drawing is for example: "draw yourself with glasses" or "draw yourself with red hair". Than kids can try to draw their own face with this imperfection element in it. This way they can learn that it is ok to have glasses, red hair, a dark teint skin, big eyes or something else people are normally pre judged about.
It is strange that people treat each other different when they have visible rare elements. I mean: everybody should accept each other, no matter how they look. Everybody is unique and that's good.
Celesta.nl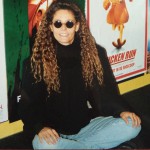 In 2001 I already started Celestamagazine.nl (which I don't have anymore) where I did behind the scenes of musicals and I interviewed actors. Because of toomuch webdesign work I did during this time I stopped the website.
In 2008 I restarted my blog journey at Celesta.nl because at that time we also had made new agreements with our Italian friends about our coffee business.
I changed my own web domain, Celesta.nl, which untill than was all about Celesta (web)Design, into a blog with various topics which interests me. I was tired of making websites which took a lot of my energy and I felt relieved to do something I really liked doing which was writing. Although I am absolutely no writer by heart I enjoyed, and still am enjoying, sharing the stories that comes along, both past and present, in our life.
Pumpkin seedoil & coffee cups
Always in search of finding remedies to be healthy again, we came across a wonderful healthy product which was not very known in Holland yet. Pumpkin seed oil was added to our daily business in 2012 and now we also import one of the best organic pumpkin seed oils of Austria.
As it comes to importing interesting products which are not yet known in the Netherlands we are always alert in what comes on our way. In 2013 I spotted Acme cups on Instagram and became the exclusive importer for Holland.
PR for Rajacenna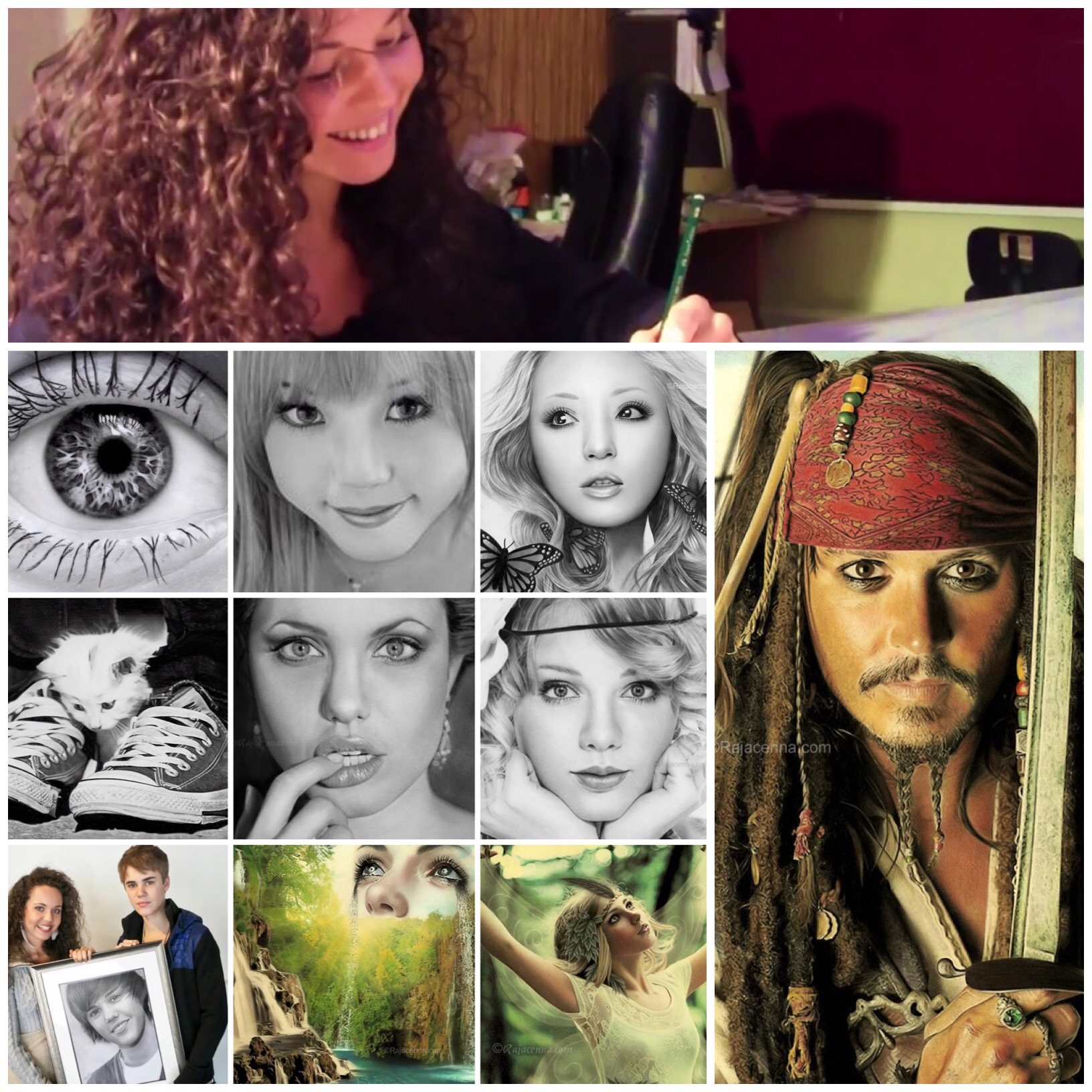 In 2009 I could also add a new job to the list because I came involved in doing the public relations for Rajacenna, my daughter.
At the age of 16 she suddenly became one of the world's best realistic pencil artists. Suddenly we had the media all over our house and the mailbox flooded with fanmail from people of all ages from all over the world. Apparently she had a unique talent where even she didn't knew about. I blog about that also in the future.
Modelling, tv & movies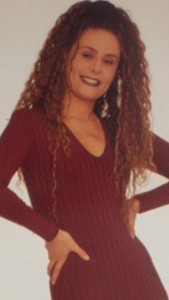 This was a quick summary of the 27 years of being entrepreneurs (I left things out); besides all the health- and debt stress we managed also to do fun things in between our normal work. During these years we played in tv-series and movies; this all started off when our daughter started her paid work as a child model/actor at the age of 3 (1996). Already at an early age she worked for big Dutch companies and had roles in tv-series and movies. I'll write about that in some other blogs too.
What am I doing recently?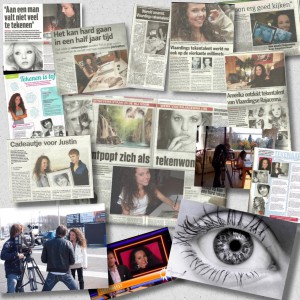 At the moment I am not involved that much anymore in our business; I think I have worked for five hundred years now and mostly while I was sick.
I now work from a distance and I do the PR, marketing and organizing pursuits of our business and my daughter. I had to let go of controlling things too much so the stress can not slurp of my energy anymore. Instead of taking my life and money so seriously, I am now back to the crazy person I once was in my childhood years and that pleases me more than living with status and ego.
The last years I realized that I am really more like a spiritual person than an average entrepreneur who must maintain status, ego and keep up with clients.
I have now surrendered to being a Tarot reader which gives me a lot of peace. Helping other people is much more satisfying and suits me better than anythhing else. My whole life I really tried very hard to resist psychic abilities. But now I have come at a point in my life that I find peace with who I really am.