Manuel Glühcaffè
Koffiemousse glühwein compote
Witte koffiemousse:
250 g witte chocolade
1 ei
1 eidooier
4 eetlepels water
1 vel gelatine, witte
500 g room
125 g koffiebonen, elke Manuel koffieboon voldoet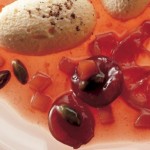 De koffiebonen met de room mengen en afgedekt in de koelkast minstens 2 -nog beter 3- dagen laten intrekken. Zorg ervoor dat u een paar keer per dag roert, anders wordt de koffiesmaak niet goed afgegeven.
Op de dag van het bereiden: breek de chocolade en smelt zachtjes op au bain-marie-wijze. Week de gelatineblaadjes in koud water voor ongeveer 10 minuten. Giet de koffieroom door een zeef en druk de bonen een beetje aan (voor wat meer smaak). Gooi het residu uit de zeef weg.
Het hele ei, eidooiers en 4 eetlepels water mengen in een niet al te grote roestvrijstalen kom. Wat water verwarmen (ongeveer 0,5 liter) in een steelpan, maar niet koken. Nu de eimassa met een garde romig opkloppen. Zorg ervoor dat het ei niet schift! Voeg de gelatine toe nadat u het goed heeft uitgeknepen, terwijl u roert. Nu het nog warme eierenschuim langzaam door de gesmolten chocolade roeren. Als de massa wat klontert, geeft dat niets; door het toevoegen van het resterende ei wordt het weer glad en homogeen.
Laat het mengsel volledig afkoelen.
Ondertussen, als de koffieslagroom bijna opgestijfd is, vervolgens zorgvuldig mengen met de chocolade. De mousse verdelen in een grote schaal of in portieschaaltjes. In de koelkast niet afgedekt 5-6 uur zo goed mogelijk laten opstijven voordat u het opdient.
Opmerking: De consistentie van de crème is ook ideaal voor het uitsnijden van dessertplakken.
Glühwein compote:Rode wijn, suiker, vanille, kaneel, kruidnagel, sinaasappel en Schijfje citroen aan de kook brengen in een pan. Hoeveelheden afstemmen op persoonlijke smaak en aantal personen.
Appelblokjes (voor de smaak) snijden en ongeveer 2-3 minuten daarna meekoken, daarna kruidnagel en citroenschijfje verwijderen. Maizena met wat koud water mengen, het geheel laten sudderen gedurende 2 minuten. Pistachenoten toevoegen en doorroeren. Klaar!
Serveren: direct in een klein schaaltje (per persoon) of in muffinvormpjes.