Op de eerste rang bij renovatie Gemeentehuis Vlaardingen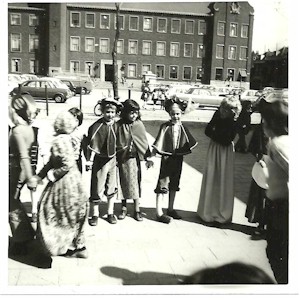 Daar sta je dan; gedwee als zesjarige temidden van mijn allerbeste tweelingvriendjes uit m'n kleuterjaren Hans en Dikkie. Zoals je misschien opvalt, zijn wij redelijk ouderwets gekleed. Als Juffrouw Saartje uit de legendarische Nederlandse tv-serie 'Swiebertje' ging ik die dag verkleed naar school toe. De reden van deze eenmalige verkleedpartij was het toentertijd 750 jarige bestaan van Vlaardingen.
De foto is genomen met op de achtergrond het oude gemeentehuis van Vlaardingen. Uit die tijd herinner ik me nog dat er door de gemeente een grote interne schoonmaak gehouden werd. Dozen vol met archieven en papieren werden er lukraak op de straat neergezet. Precies aan de overkant van de school, als de school dan uit ging, liep ik eerst even langs de straatkant om naar de betreffende spulletjes te kijken. Ik heb er nog ontzettend veel praktisch onbeschreven papier vandaan gehaald waar ik daarna nog jarenlang plezier van heb gehad. Het waren grote archiefpapieren met soms maar één naam er op geschreven en vervolgens was het hele vel blanco.
Anyway; er moest (toen) een nieuwbouw-gemeentehuis naast het oude gemeentehuis gebouwd gaan worden. Dit vond plaats op het terrein tegenover de speelplaats van de school. Geen idee meer hoelang, maar voor geruime tijd waren wij kinderen van de van Kampenschool getuige van deze bouwactiviteiten. Niet wetende dat ik ooit nog eens pal tegenover dit (toen nieuwe) gemeentehuis zou gaan wonen. Ons huidige huis, als onderdeel van een soort burcht/vestingontwerp van de architect, is precies gebouwd op een oud voetbalplein waar ik mijn hele jeugd dagelijks na school op voetbalde. Dit werd de "plek" waar een in Nederland uniek project met 99 huizen werd gebouwd eind jaren negentig.
In de zomer van 1999 deden wij onze intrede in dit nieuwe huis wat pal tegenover mijn oude school van vroeger gebouwd was en natuurlijk tegenover het Gemeentehuis van Vlaardingen.
Nu circa 40 jaar later werd er besloten om dit gemeentehuis een nieuw jasje te geven. Althans dat wil zeggen; na enkele rechtzaken en in plaats van een geheel nieuw gemeentehuis wat aanvankelijk de bedoeling was. Een nieuw gemeentehuis had de Vlaardingers € 54.000.000 gekost. Na een hoop gesputter van een heleboel mensen is dit plan uiteindelijk afgeblazen en werd er akkoord gegaan met een renovatie.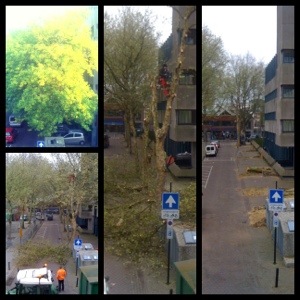 De renovatie die zijn aanvang maakte begin van de zomer van 2012. Nadat er een hele straat aan bomen was omgezaagd kon er aan het strippen van het gebouw begonnen worden. Op zich vind ik het wel jammer dat alle bomen in de straat verdwenen zijn. Op mijn twaalfde plantten we met de hele klas diezelfde bomen die zo'n 20 jaren later voor mijn enizgzins mooie keukenuitzicht zouden gaan zorgen. De bomen die uiteindelijk toch na 34 jaar maar moesten wijken voor de renovatie van het Vlaardingse gemeentehuis.
Een grote renovatie waar wij als overburen rechtstreeks (we wonen een meter of tien er tegenover) getuigen van zijn. Vanaf de start werden we vervolgens de hele zomer lang ongeveer vanaf zes uur 's ochtends gewekt door op het bouwterrein binnendruppelende bouwvakkers. Dan begon de herrie tussen half zeven en zeven uur en werd de hele straat vanaf dat uur gedwongen om wakker, fris en fruitig te zijn. Vervolgens ging de herrie de hele dag door en alsof dat nog niet genoeg was, werden we ook nog op zaterdagen vroeg getrakteerd op het geknutsel. Met ons kantoor gelegen aan de straatkant pal tegenover alle werkzaamheden, was het in het begin wel even wennen om je door alle zakelijke telefoongesprekken te worstelen. Jaco kon zich niet altijd verstaanbaar maken, maar negen van de tien keer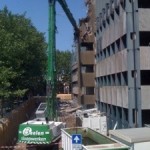 viel het al met al best wel mee. In tegendeel tot enkele overige buren uit onze straat die blijkbaar aardig geïrriteerd waren door de behoorlijke sloopherrie die er geproduceerd werd. Dit blijkt uit een kort gesprekje met De Telegraaf die bij ons aan de deur kwam voor een item over de renovatie en daarbij behorende overlast. De reacties die hij van andere buren kreeg, was dat zij behoorlijk overlast leken te hebben terwijl veelal de hele straat overdag werkt en de bewoners dus bijna nooit thuis zijn. In tegenstelling tot ons gezin met kantoor aan huis, waardoor we dus hele dagen in deze overlast zaten; ervaarden wij dit niet echt overlast. De huizen waarin we wonen zijn erg geïsoleerd en valt het op zich nog wel mee met de herrie. Daarbij werkten ze nauwkeurig volgens het bouwschema en dat geeft vertrouwen.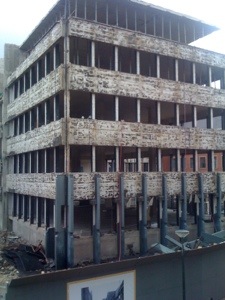 De sloopwerkzaamheden, die inmiddels zijn afgerond, waren zeer goed en systematisch geregeld mijn inziens. Op een paar kleine incidenten na hebben de slopers alles netjes afgemaakt.
Op 9 aug jongstleden vond het eerste kleine incident plaats; toen dochter 's ochtends in de keuken haar ontbijt klaar stond te maken, zag ze dat er een kleine ontploffing plaatsvond vlak nadat een man met een vonkende elektrische zaag iets had doorgezaagd. Direct daarop volgde er een klein brandje waarop er een enorme zwarte brandwolk de helderblauwe hemel tegemoet dreef. Een paar mannen sprongen weg uit het vuur en de enorme brandwolk en liepen enigzins paniekerig heen en weer. Al gauw probeerde een van de werkmannen het brandje te blussen, maar een kwartier later arriveerde de brandweer alsnog om alles goed te doven.
Het tweede incident vond 27 augustus plaats en veroorzaakte enig wateroverlast voor onze deur.
De Telegraaf had lucht van het waterleidinglek gekregen en wilde in verband met alle overlast omtrent de renovatie de buurtbewoners hierover vragen stellen. Geen idee of het item ooit de krant haalde, maar een waterlek herhaalde zich een aantal maanden later waarna de hele straat blank kwam te staan. Gelukkig kwam het net niet de voordeur binnenzeilen en werd het dezelfde dag nog hersteld.
een aantal maanden van rust voor de deur werden de werkzaamheden begin december weer hervat. Dit leverde ons nog enkele slapeloze nachten op omdat men besloot om midden in de nacht een waterpomp luidruchtig te laten draaien. Maar goed, dit probleem was na een belletje zo opgelost door de herrieschopper te vervangen door een geruisloos apparaat. Inmiddels kan iedereen de vorderingen op twee webcams ook nog live volgen. Niet dat je er iets aan hebt, maar het is wel grappig om als buitenstaander of Vlaardinger één keer in de zoveel tijd even te kijken hoe het "belangrijkste" huis van Vlaardingen zijn nieuwe moderne jasje aangemeten krijgt. Dan weet je als Vlaardinger in ieder geval wat er met je centen gebeurt.