Cat Fly Swatting Masters
Cat's Ultimate Fly Swatting Skills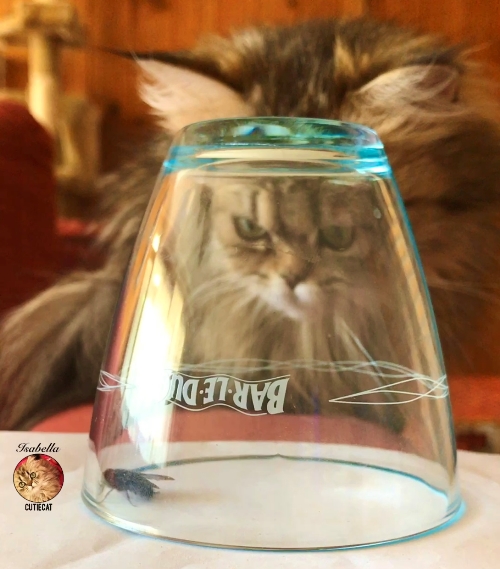 Cats are the ultimate live fly swatting masters did you know? If you have three cats; there is noo way that you (if you were a fly) are going to get out a house alive, ever.
They just smack there paws everywhere to try and attack the no-chance-having-flies-in-my-house-flies. In no time they rush around the house leaving no room for humans, knocking down TV's.
Until there is the moment their paw hits your eye and the fly gets placed in your pupil. That is less funny.
It's so good to have them as professional fly terminators you know; they can smack flies real good, then look at them real good as they are half dead crawling on the floor and after that slap them real good again.
They are also perfect in examining the shit punks when they are under a glass: it's like a microscope but than different and you can crawl all around it to see the little bastard suffer and scare them real good with your whiskers faking to poke him. (Cat thoughts not mine)
As you notice: cats are rather sadistic creatures and under that I-am-so-incredible-cute-face lives a I-will-beat-the-wings-out-of-your-tiny-poo-eating-mini-monster-figure.
Cute furry balls are generally known for begging for food, not listening when they should, their agility, sharp reflexes, and annoying predatory instincts, which make them adept at catching flies and other small insects which we humans often inhale if it weren't for their insane reactions to destroy the little bastards.
video: How to Grab the Darn Bug
Here are a few reasons why cats are particularly good at catching flies:
Enhanced Senses: Unleashing the Possessed Powers
The cat kitties possess highly developed senses (or maybe they just are totally possessed), including exceptional vision, hearing (except for Persians because they intent to ignore you), and coordination.

Their keen eyesight allows them to detect even tiny movements (even when it comes to a sister at night they might attack because sometimes they need glasses too), and their sensitive hearing helps them locate the high-pitched buzzing sounds of flying bastard insects.
Quick Reflexes: The Lightning Strike Cats have fast reflexes that allow them to react swiftly to sudden movements. When a fly takes flight, cats can quickly track its trajectory and pounce on it with precision and speed. They even demolish beautiful gracious butterflies entering their aura space.

Natural Hunters: Unleashing the Instincts
Cats are natural hunters by instinct. They have evolved over thousands of years to be skilled predators, honing their hunting techniques to capture small, elusive prey. Flies and other insects trigger their hunting instincts, and cats often perceive them as prey that needs to be caught delicious cat food available at home or not.

Agility and Coordination: Ninjas on Paws Cats are incredibly agile and have excellent coordination. They are capable of making quick, precise movements and can change direction rapidly just like UFO's, which gives them an advantage when chasing after fast-moving flies. These furballs are totally like ninjas on caffeine.

Patience and Focus: The Zen Masters of Fly Hunting have their own secret weapons. Cats have mastered the art of zen-like stillness, which is only interrupted by their intense gaze locked onto their target. They can remain motionless for what feels like an eternity, patiently waiting for the perfect opportunity to pounce on an unsuspecting fly. It's totally as if they've attended countless meditation retreats and obtained a Ph.D. in Zen-like tranquility. This patience, combined with their focus, allows them to calculate their movements accurately and increase their chances of successfully catching the damn flies.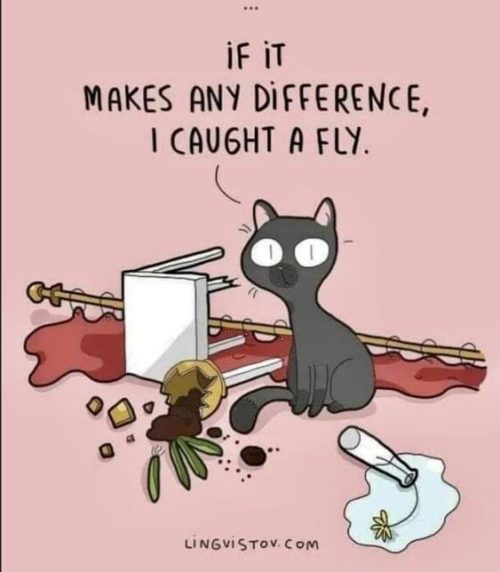 So
It's important to note that not all cats are equally skilled at catching flies. Sometimes they are as lazy as human beings and just want to hang in the drum of the washing machine.
The next time you observe your feline companion in a state of tranquility, remember that are not just eyes-wide-open-napping; they are plotting their next epic fly hunt.
Cats are basically undercover ninjas with superpowers. They've got supersonic hearing, lightning-fast reflexes, and instincts that would make James Bond jealous. These little furballs are the ultimate fly-swatters! Flies don't stand a chance in their domain. So instead of stressing about those pesky bugs, just kick back, put your feet up, and watch the show as your fluffy sidekicks unleash their feline fury on those winged troublemakers. It's like a never-ending action movie, starring your very own bug-busting superheroes!
©Celesta.nl – 2023