How to undead a Butterfly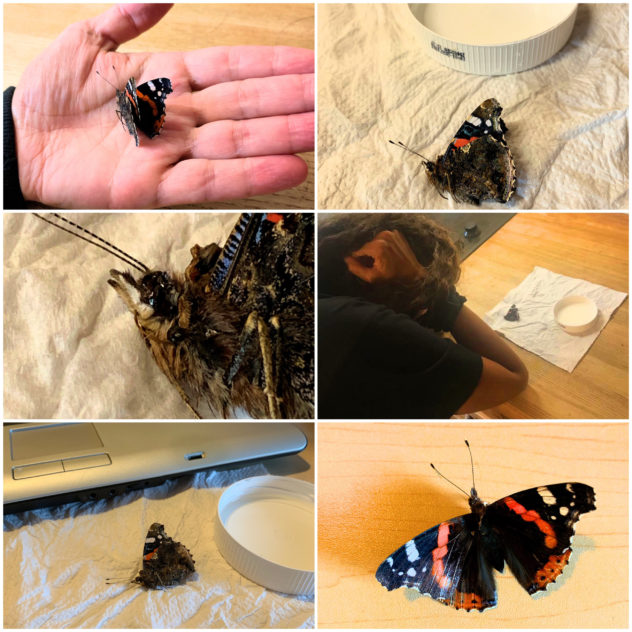 It's Summer time, Corona times and also Butterfly time. Corona times doesn't prevent insects from flying insane routes which can be extremely exhausting for them and occasionally they are totally weakened and need a little help from the human race.
Today it became clear that our front door mat is a very popular place to rest your bud on once in a while. I'm not going to try this myself, because I live here and you'd better not trying it either because this is Corona times and you are not living here. But when it comes to butterflies: I say "welcome little butterfly!", "be my guest".
I assume this beautiful butterfly, called Atalanta, had just traveled all the way from Finland to the Mediterranean Sea which was maybe a little too much for this girl (or guy?). I would be pooped out too if I had to walk to the grocery store and back to fly to the Netherlands from the Mediterraneans.
After picking up the little fellow; husband and I started this huge rescue action to make the wings move again, because they really looked somewhat dead to us. First we flapped them real good up and down to make him fly again until the wings broke off all two of them.
No of course not people: we would never do that! You have to treat little butterfly wings with extreme respect and caution because they are highly fragile.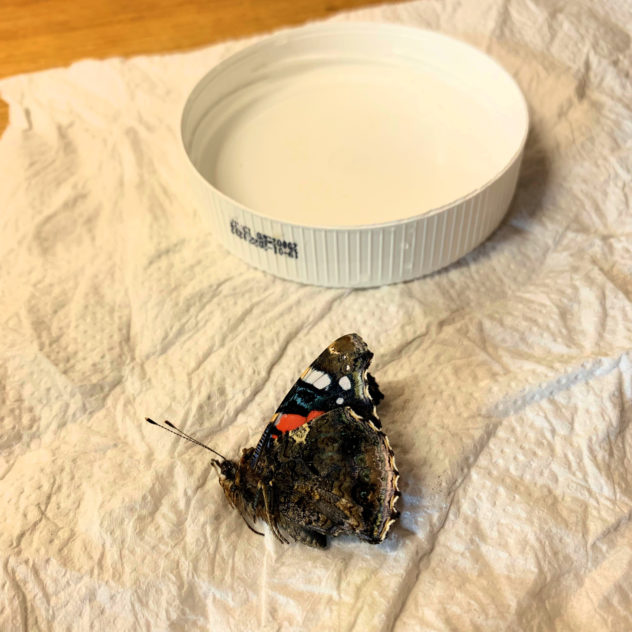 After dipping his little face area in a bath with water; I started coaching him back to life again and when I thought I saw his wing move that was abruptly disillusioned by the fact it was the breathing from the husband who also pushed his big face on top of the tiny thing.
She didn't move anymore and how are you supposed to know it's totally dead, drunk or asleep?? You can't just poink her with your finger; it would destroy the insect.
But just in case she would be waking up or would be arisen from the death; I name her Rosaly.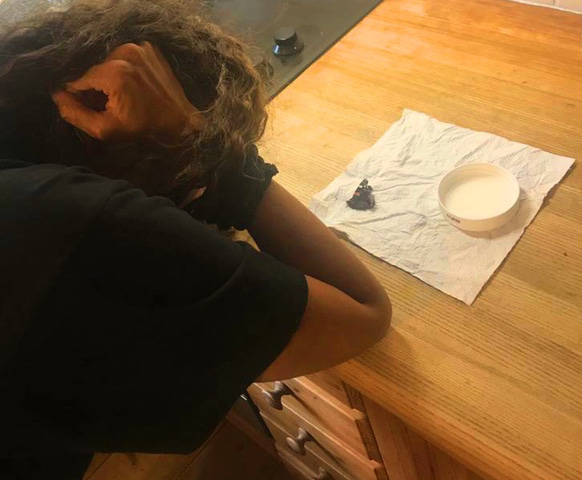 As you notice on the picture: I was trying to talk little Rosaly out of her death or nap.
We added some honey to the water and zoomed in on Rosaly with the iPhone to see if her eyes would blink or if she would give any type of movement. Jack saw her tiny tongue, but I still think it was her large something-else or miniature backpack.
Well we waited en waited and I decided to take the napkin, water and Rosaly upstairs to the office, so she would be protected from three Persian professional butterfly catchers.
But then the most amazing thing happened when I came upstairs again, after having collected some pictures for the epic how-to-undead-a-butterfly-blog; Rosaly was on the napkin in front of Jack's laptop, where he was working and coaching Rosaly at the same time, and: Rosaly had the huge lid on top of her, totally pushed flat to the napkin!
"What are you doing with Rosalyyyyyyyy" I yelled to my cruel husband. On which he responded: "Rosaly is dead. She is stiff, and she just is a dead butterfly", "I'm just making her wings pretty again. Oh, well great Mr. Butterfly doctor; couldn't you just wait another hour before stroking her up like that". "You never know if she suddenly hears my voice and want to come back to life again". Or something like that.
Well anyway: here is where the life ends of Rosaly the Butterfly. On our door step.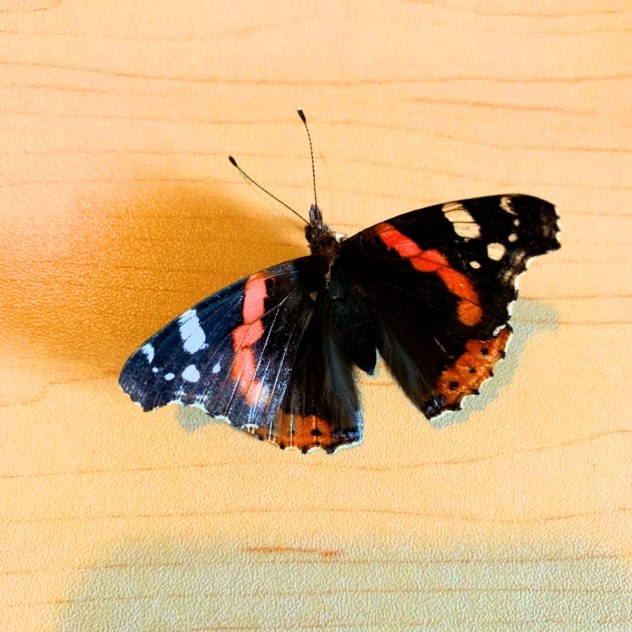 But for your information: in the past we have successfully rescued several weakened butterflies and almost eaten and smashed by our Persians butterflies. Just a saucer with water and honey and after an hour or, so they resume to flap their wings again.
Small update: I just googled Atalanta and just saw she in fact is named 'Vanessa'. But I think she won't mind calling her 'Rosaly' I am sure.