Hypnotized by alpacas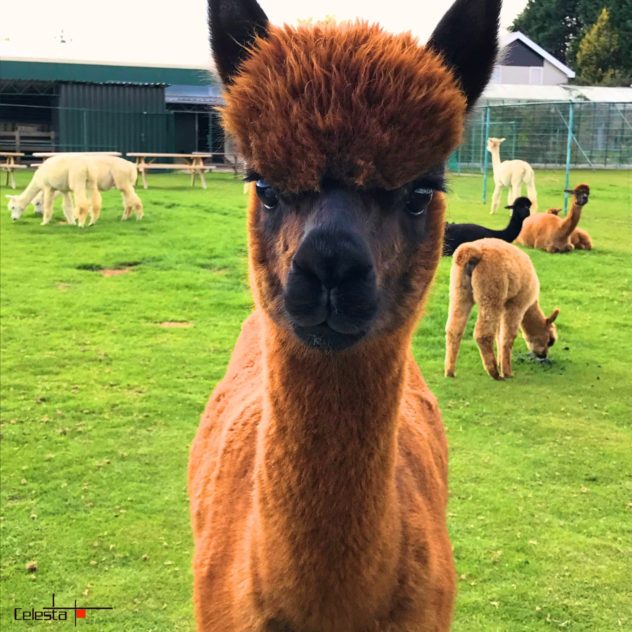 If you ever want to experience a relaxed walk and a good conversation from a beautiful, cute and intelligent creature: then don't come to me. LOL. Then go to an Alpaca resort (one where they treat animals with respect).
You know 'Alpaca' the Lama-look-a-like, but isn't one. Most important difference between the two long-legged-animals is that Lama's spit your face full and Alpacas don't. They at least want to kiss you, but they never do because they have respect for humans. Not exactly sure why.
If you have lot of stress during the week (or your entire life); it's recommended (by me) to enjoy the companionship of these pretty and funny looking cuties.
They behave very observant and have a most calming appearance and once in a while are in for a good chat.
Coffee & Tea Pool
I had the opportunity to mingle with them while sitting on a picnic table and mess around (with huge captions) with the thermos things we brought with us. We had the amazing idea to sit between peaceful Alpaca's and have tea or coffee.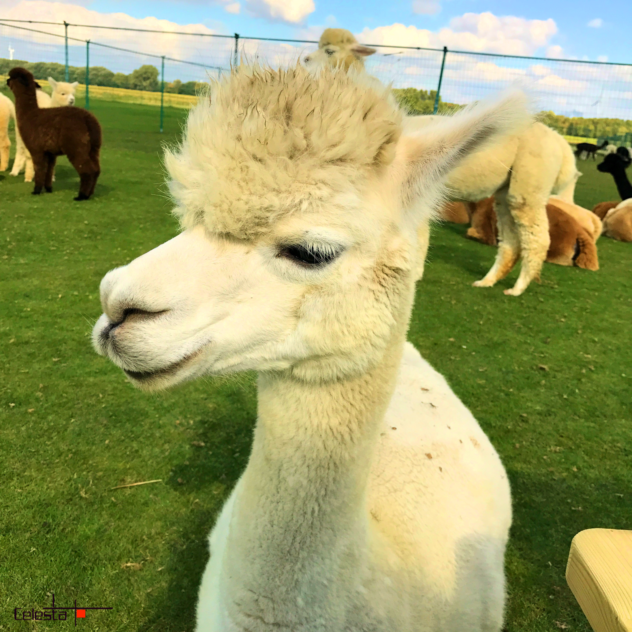 Which on itself would have been a good idea if everything had gone well. When opening the wicker picnic basket, my hands landed in a pool of coffee and tea with whirling sugar sachets (for my mom, not us: we don't eat/drink ADHD provoking stuff anymore) and did I grab the dripping thermos flasks.
Well it was to be expected that two very old thermos things would leak some day. One thermos belonged to my grandma and is approximately 45 years old and the other is from my mom, approx. 25 years old. Yes people we don't throw stuff away just for the sake of making the blitz (Dutch expression = showboating) with stylish new social gathering equipment and pollute the world with plastic shit.
We re-use things and there really isn't anything wrong with that. Buying new stuff all the time is a marketing brainwash strategy for companies to earn money. So you know.
Hypnotized by an Alpaca
Anyway, back to the Alpaca's. Since our little tea/coffee-party-picnic fell in the water. Well more like: tea and coffee in the picnic basket. We could concentrate on the very comforting beasts.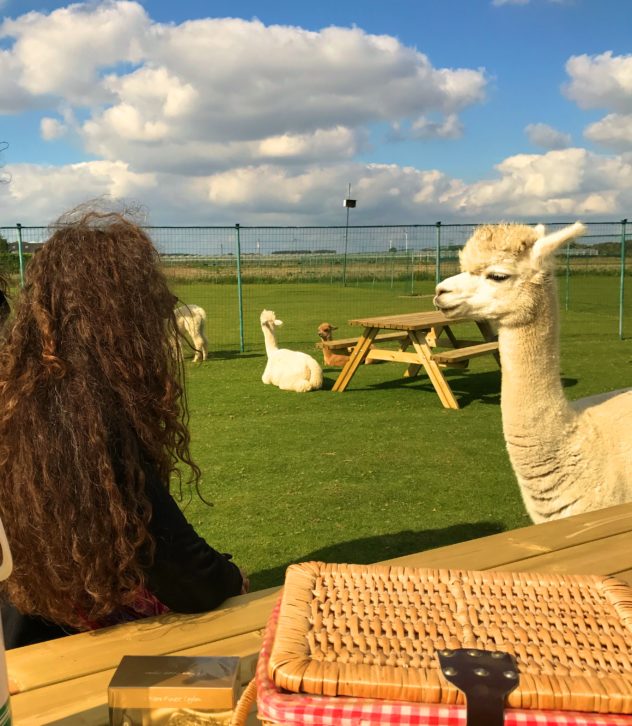 As I sat there, from the corner of my eye I saw this Alpaca cutie approaching me and for a second I had the fear to be eaten by this thing or at least would have been knocked over and spit on because the Alpaca would have forgotten it was not a Lama.
But instead the beast came nearer and stopped close to me while I sat there as lamp post.
I sizzled between my teeth asking what the animal was doing and if I had to run away instantly or let the incognito monster eat my eyeballs just like that. Instead the I-need-a-haircut-AlLama (alpaca+lama) did nothing else but staring into my ear probably wondering if the juicy looking smear was safe to eat.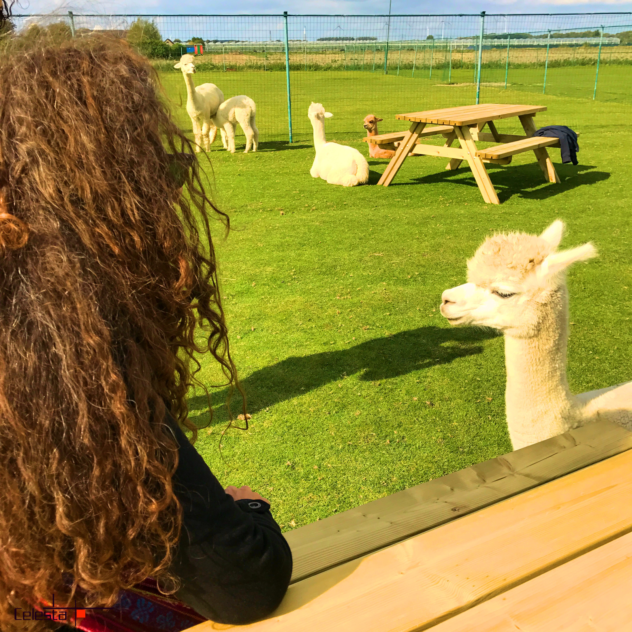 As I sat there fearing for my life, it suddenly came to me: what on earth am I scared about. So I decided to watch back at the animal and look him straight in the eyes. The Alpaca watched back. There we were staring each other in the eyes. Alpaca's eyes were bigger than mine. What was he thinking? More important: what was he thinking about me. Not that I care what people or animals (or aliens) think of me, but this was an Alpaca and I care!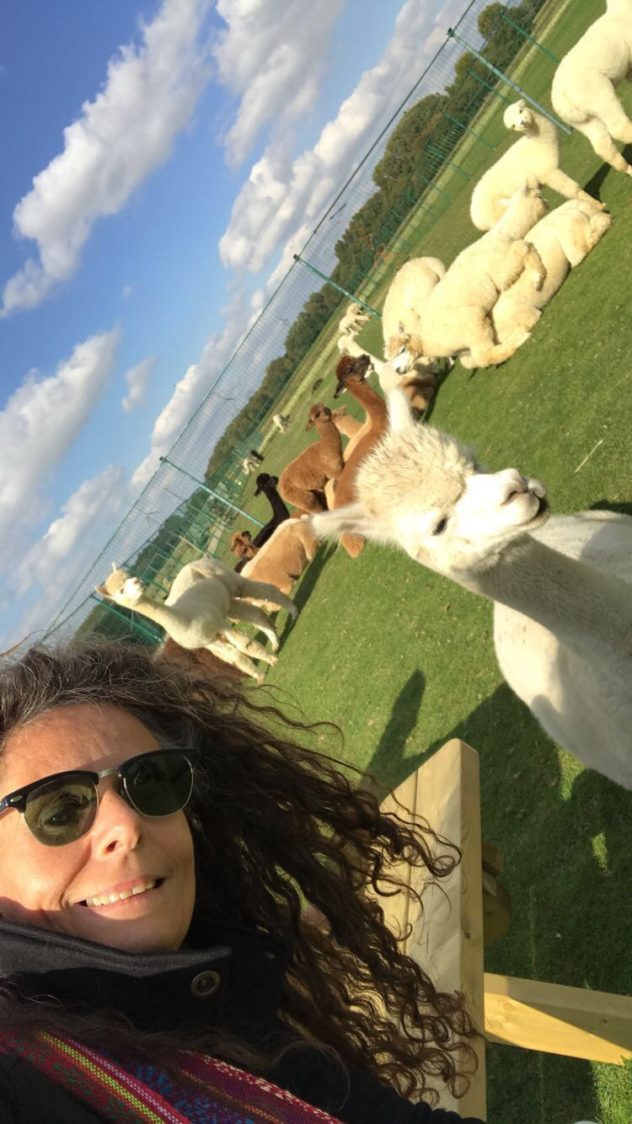 Minutes floated by and I couldn't help noticing that it actually became very peaceful. The whole charade last 30 harmonious minutes and I'm not entirely sure the fluffy beast was trying to read my mind or hypnotize me. Although I have to admit it was very comforting and strangely enough I can totally recommend it. They are so much better than people staring at you, judging everyone or do a manipulation attempt which could end up (in my case) biting your finger off.
No give me an Alpaca and life will get more peaceable than ever.
There is always the opportunity to walk the Alpaca; like walking a dog, but than looking like a fool. Nooo of course not, how rude of me. You look perfectly fine when you walk an animal looking like a small size giraffe with a just-woke-up-hairdo. At least for the selfie you look perfect. Then you can connect even better with each other: which I don't needed because we already connected well enough. And because my body is not able to walk for 1,5 hour in a total silence mode. That's not for me. But for you there is always a group with other people to talk to; but that is not for me either. A three-minute walk would have been more suitable for me.
Did you ever walk an Alpaca: let me know.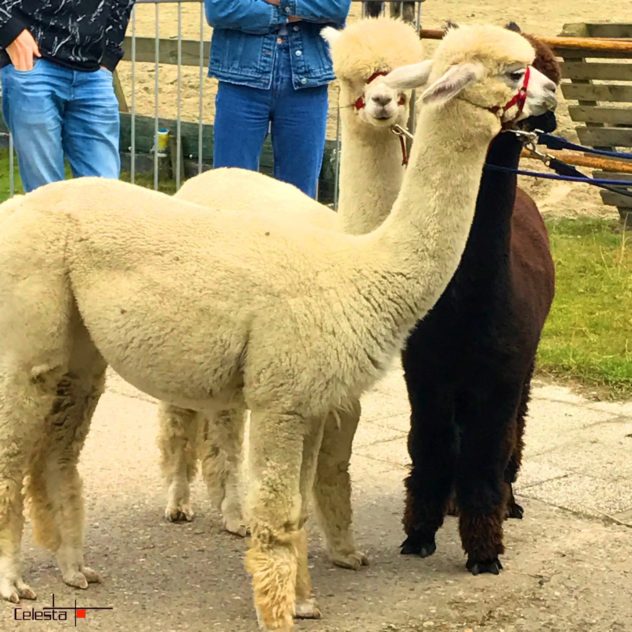 ▪️ https://alpaca-world-brielle.nl/de-alpaca/
For more rubbish you can take the risk here:
Connect with me:
Instagram/Twitter: celesta66
https://vm.tiktok.com/ZM8oC7uem/
©Celesta.nl – 2022